The introduction of decentralized finance has created a new playground and stance for cryptocurrencies globally. As a result, there is more adoption of digital assets into several mainstreams and an increase in awareness for virtual currencies.
Decentralized Finance (DeFi) comprises some financial applications that are built on blockchain technologies. DeFi alters the usual procedures of the traditional finance world through the use of smart contracts. These remove the influences of intermediaries in executing transactions, and access is granted to all through an internet connection.
Defi created a new direction on finance by allowing users to lend and borrow cryptocurrencies. Through such opportunities, lenders can earn annual yields, and borrowers get served with specific interest rates. Thus, the ecosystem satisfies the financial needs of the crypto community.
YoBit.net, as a DEX, is playing a vital role in the Defi space by providing different digital assets for users. The exchange supports over 8,500 crypto-crypto and crypto-fiat trading pairs.
The exchange offers users the platform to access the different crypto pairing in the digital markets through its simple and easy-to-use interface. Also, users of the platform don't pass through AML and KYC verification processes before utilizing the platform, unlike most exchanges.
Furthermore, YoBit.net doesn't restrict customers from any geographical location in the world. Therefore, anyone can access and use the platform to enjoy the benefits of decentralized finance in cryptocurrency.
Visit The Official Website
Yobit.net Exchange
Yobit.net is a decentralized exchange that provides a wide range of trading of several cryptocurrencies. Founded in 2014, YoBit has strived to surface as one of the reputable platforms in the Defi space. A group of European crypto developers and enthusiasts are the founders of YoBit.net.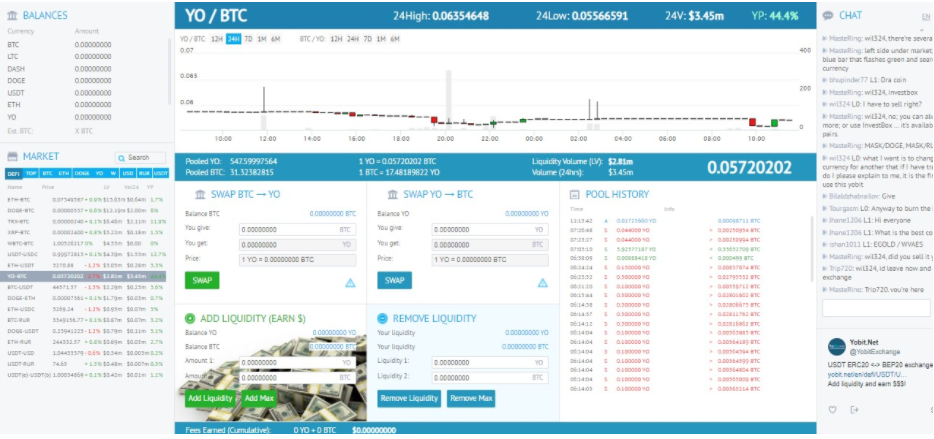 The exchange is incorporated in Panama and maintains a good record among the older exchanges in the crypto space.
Yobit's sustainability and performance through the years depend majorly on some of its features which include:
User-friendly interface.

Outstanding trading tools like candlesticks and charts.

Easy and fast registration process.

There are many deposit and withdrawal options for fiat currencies like debit cards, Payeer, Perfect Money, and AdvCash.

24/7 Customer support services.

Affiliate program.

Multilingual tech chat support that includes English, Chinese, Russian, Arabic, and German.
There are lots of factors that set YoBit DeFi apart from other decentralized exchanges. Besides its wide range of available crypto trading pairs, the platform has a simplified interface for easy navigation. Also, it has no geographical restrictions for crypto customers.
YoBit DeFi Advantages
The YoBit DeFi offers many services and products that promote and keep users glued to the exchange. In addition, the protocol boasts of several outstanding and distinguishing attributes which offer it advantages over competitors.
Some the great advantage of the exchange includes:
Single Screen Services

– The interface is similar to popular DEXes like PancakeSwap or Uniswap, but it allows you to do everything just on a single screen. Quite clear UI. 
Needs no Extra App for Storage

– The exchange has a simple and convenient interface and storage. You can easily store your funds without connecting to Metamask or another wallet. Everything fits on one screen; no third-party apps are needed.

Instantaneous and Speedy Execution of Transactions

– Transactions on the exchange take place instantly. We do not depend on the Ethereum network, which works slowly; everything happens quickly on one site.

Working with real assets –

On decentralized exchanges, you will not work with real Bitcoin with real DOGE because they are on their blockchains and are not DEX compatible. You do not need to wrap your Bitcoins in WBTC; you do swaps and get rewards for providing liquidity in real assets.

Low Commission

– The exchange is reputable in the industry as a low-cost platform. It charges only 0.3% of the transaction, 0.05% of which supports the internal Yo token of the YoBit exchange. So if you keep Yo, then DeFi is an even better story for you because it will likely grow. In addition, 0.2% of the commission goes to payments to liquidity providers. This is to reward those who throw their coins into the pools.

Easy Fiat Withdrawals – The exchange supports fiat withdrawals without many processes involved. Users can conveniently liquidate their assets and withdraw as fiat currencies. For instance, you can make a Bitcoin swap for dollars and then anonymously withdrew fiat without KYC. This's a very convenient gateway to receive fiat money with the lowest fees.
How to Use YoBit DeFi
Using the YoBit.net platform is very simple. However, you can follow the guidelines below for clarification.
Visit The Official Website
Sign Up on YoBit DeFi
The registration process on YoBit is straightforward, and you can complete it all within one minute. Just visit the official website and click on 'Registration' at the top right hand of the screen.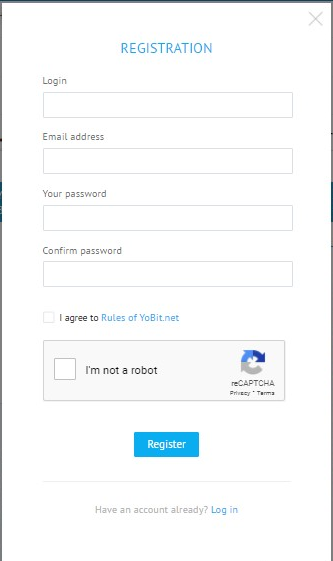 You'll need to fill in a username and your email address. Then create a strong password to maximum security for your account. The platform doesn't demand KYC and AML verification.
Deposit Funds
Once you've completed the registration, you can go ahead and deposit some funds into your accounts. The exchange supports deposits with both cryptocurrencies and fiat currencies.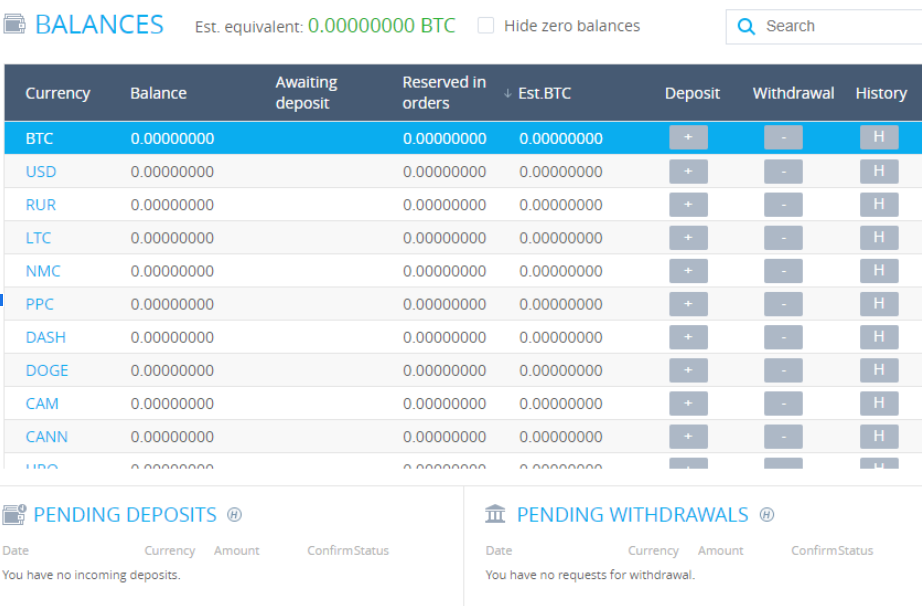 From the top navigation menu, click the 'Wallets' button. Then, select the crypto or fiat you wish to transfer from the list. Finally, complete the process by inputting the amount and other details for the transfer.
Transfers of cryptocurrencies will demand the designated wallet address, while that for fiat currencies is through the supported deposit options.
Make Swaps on YoBit DeFi
There are 17 crypto pairs currently on YoBit DeFi. Users can choose any of these pairs to swap under the "DeFi markets" left-hand column.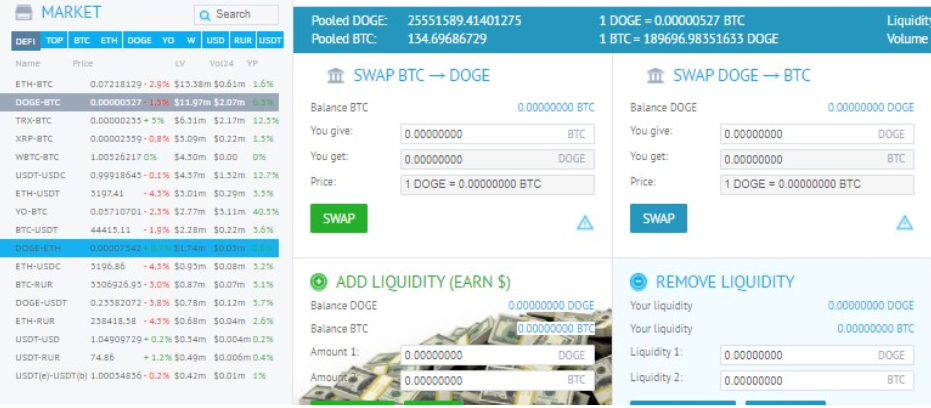 After choosing the pair, they can input the crypto amount for the swap in the "You give" field. Once they have entered the amount, the number of the swapped token they'll get will appear in the "You get" field at the current price.
As soon as the user initiates the swap, Yobit.net will deduct the designated crypto amount from one crypto wallet and automatically update the other crypto wallet.
Adding Money To Liquidity Pools
Yobit.net users can invest in the liquidity pools to earn rewards. There are more than 16 liquidity pools available on the YoBit DeFi exchange. These pools include DOGE-BTC, ETH—USDT, YO-BTC, ETH-BTC, XRP-BTC, BTC-USDT, USDT-USD, etc.
To invest in these liquidity pools, you will go to the "DeFi Market List" to pick a crypto pair of your choice and put the amount for each of the cryptos to add under the "Add Liquidity (Earn $)" section. After entering the values, you can hit the "add liquidity" button.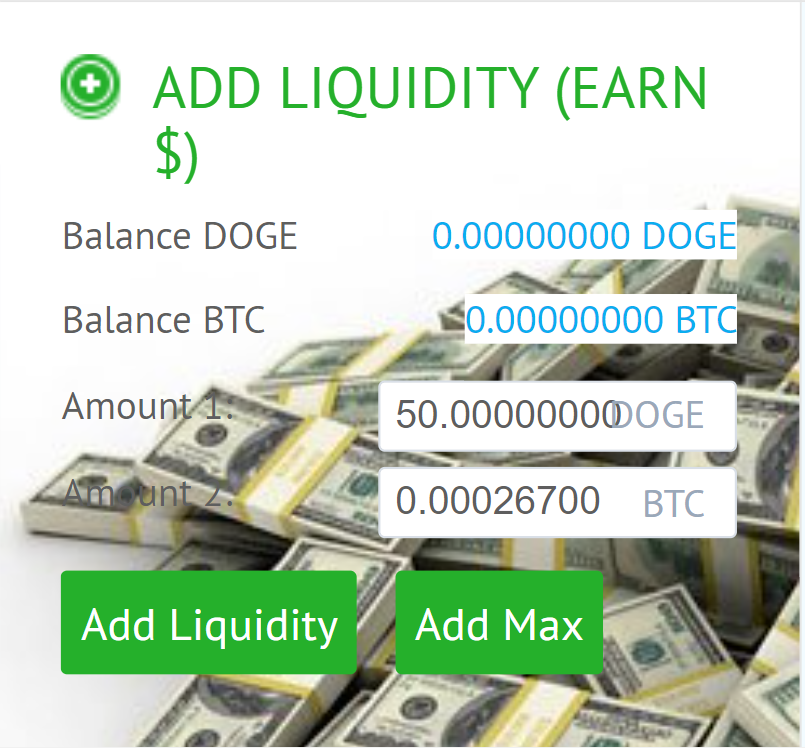 There is also a provision for topping up the liquidity you've added. Also, you can make partial withdrawals any time you want. Furthermore, all the actions you decide to take will be updated almost as soon as you initiate them. Thus, you can see the balances of your crypto anytime on the platform.
Removing Liquidity
Just like how you added liquidity, you can also withdraw your funds from the Yobit.net liquidity pool through the "Remove Liquidity" section.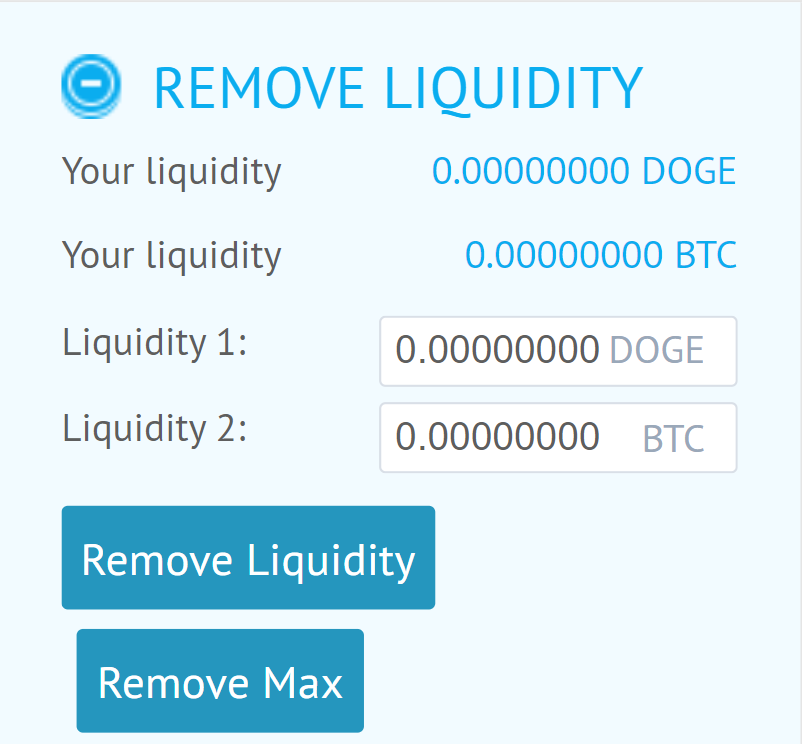 Enter the amount you want to withdraw and then click the "Remove Liquidity" button. You can also withdraw the liquidity by using the "Remove Max" button to exit the liquidity pool.
YoBit DeFi Daily Contest
Yobit.net offers many ways for its users to earn besides trading or providing liquidity. For example, if you're active on the platform, you can earn rewards through the YoBit DeFi Daily Contest. In this contest, twenty users who execute the top daily swap volumes can win from 100 UST to 10000 USDT in rewards.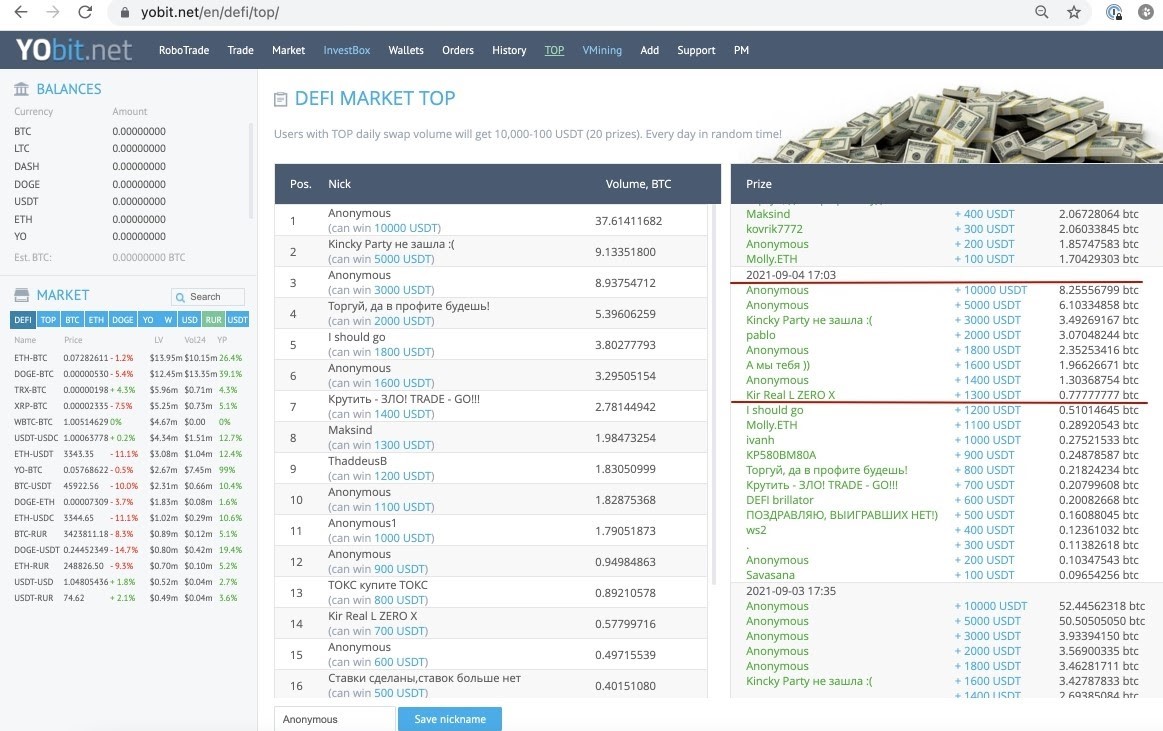 YoBit.net DeFi displays the swap volumes every day on its leaderboard. The network also selects the winners at a random time every day. As a result, even users who make low transactions can also win the contest. To participate, swap some assets every day. For instance, someone made above 1300 USDT on September 4 for participating in crypto swaps on the exchange.
YoBit DeFi Reviews
YoBit has grown to be a trustworthy and reputable exchange. Its reviews online depict its legitimacy and reliability for crypto transactions. Moreover, on reputable sites such as TrustPilot, YoBit scored 4 stars from 32 reviewers.
The exchange also has great ratings from Cryptowisser and Blockonomi. These sites are crypto review sites where people get information on the performance of exchanges such as YoBit. The exchange got 4.4 of 5 stars from Crytowisser & 8.2 of 10 from Blockonomi. Also, Youtube influencers like Satoshi Sean & Crypto TV cover the exchange online.
Conclusion
Yobit DeFi is impacting the DeFi system positively through its features and products. The exchange offers a wide range of crypto pairs for all levels of investors. The platform boasts of an easy and simple interface that even beginners can use. The registration process is straightforward,  without any demand for KYC and AML verifications. 
Moreover, Yobit.net DeFi offers competitive low fees for crypto transactions. Also, the platform is open for all crypto enthusiasts and users to explore. With its utility, Yobit has garnered a reliable and legitimate reputation. Therefore, you can try the exchange to experience its amazing benefits for crypto users.