How to Buy Pancakeswap: Invest in CAKE Tokens Today!
CAKE is the native governance token of Pancakeswap, the decentralized exchange platform known for its affordability and accessibility. With Pancakeswap becoming more popular by the day due to its lower transaction cost execution speeds compared to other DEX's, its token is also gaining more visibility.
CAKE is a BEP-20 token, as it was created on the Binance Smart Chain (BSC). Established in September 2020, it was designed to challenge the monopoly of Ethereum-based (ETC-20) tokens that have taken over the market. Offering better financial and administrative benefits, more investors are flocking to CAKE by the day.
If you are looking at how to buy Pancakeswap in a few minutes, follow this quickfire guide.
How to Buy Pancakeswap: Quickfire Walkthrough to Buy CAKE in Less Than 10 minutes
Buying CAKE tokens is a straightforward endeavor. The token finds home amidst other products supported by its parent blockchain, Binance. With more people looking into how to buy CAKE, this quickfire guide was created to help you out in clear terms.
You can learn how to buy Pancakeswap by following this guide step-by-step.
Step 1: Download Trust Wallet:

You need a wallet to buy CAKE, and you should start by downloading the Trust app on Google Play or the App Store. Install the application and set it up by generating a PIN and a passphrase.

Step 2: Search for CAKE:

You'll find a bar on the top right corner. That's the search bar where you'll input "CAKE."

Step 3: Add Cryptocurrency Assets to your Wallet:

You need to make a deposit before you can transact. You can only do that by adding cryptocurrency assets to your wallet. You can add cryptocurrency to your Trust Wallet by sending from an external source or buying directly on the app.

Step 4: Connect to Pancakeswap:

Once you have your wallet funded, the next step is to link to Pancakeswap by clicking 'DApps' on your Trust Wallet. Next, pick Pancakeswap from the listed options and click 'Connect.'

Step 5: Buy Pancakeswap:

You can now proceed to buy Pancakeswap by swapping it for the cryptocurrency currently stored in your Trust Wallet.
Always consider the risks involved when buying cryptocurrencies. Digital assets are highly speculative and volatile. 
How to Buy Pancakeswap – Full Step-by-Step Walkthrough
The quickfire walkthrough might be enough for a cryptocurrency trading expert to go by, but the same cannot be said for beginners. So if you are investing in cryptocurrency for the first time and you do not know your way around yet, read this full step-by-step walkthrough for a better understanding of how to buy Pancakeswap.
Step 1: Download Trust Wallet
The first step you have to take is to download Trust Wallet. You can get Trust Wallet on the app store compatible with your device. Install the app on your device and set it up by following the guide. 
You will be required to create a PIN. Ensure that your PIN is strong and cannot be easily guessed. After setting your PIN, Trust Wallet will generate a 12-word passphrase for you.
This passphrase is to help you recover your wallet if you forget your PIN or lose your phone. Due to its sensitivity, you should write it down and keep it out of the reach of others.
Step 2: Add Cryptocurrency Assets to Your Trust Wallet
You cannot buy Pancakeswap directly with fiat money but only through cryptocurrencies. Using this method, you can swap established cryptocurrencies for alternative coins such as CAKE. You can go about the process in either of two ways, and we have explained both methods below:
Send Cryptocurrency from an External Wallet
The first way to add cryptocurrency to your Trust Wallet is to transfer some established coins from an external source. This will be a great option if you have another wallet apart from your newly-created Trust. However, if you have never transferred funds from it before, follow our simple guide to get it done.
Open your Trust Wallet and click on 'Receive.'

Select the cryptocurrency you want to transfer into Trust Wallet.

Copy the unique wallet address displayed.

Go to the other wallet.

Open the box for the wallet address. Next, paste the address copied from Trust.

Enter the volume of cryptocurrency you want to transfer.
Confirm the transaction and wait while your cryptocurrency is delivered to your Trust Wallet.
Buy Cryptocurrencies Using Credit/Debit Card
Another way to add cryptocurrency to your Trust Wallet is to buy such assets directly using your credit/debit card. Trust Wallet allows users to purchase cryptocurrencies directly on the wallet, and it is a straightforward process. If this is your first time doing this, follow the guide below:
Open Trust Wallet and click on 'Buy.'

Choose an established cryptocurrency such as BTC, ETH, or BNB.

Undertake the Know Your Customer (KYC) process. This process is to verify your identity so that you can transact with fiat money.

To complete your KYC process, you have to upload a government-issued ID.

Enter the number of cryptocurrency you want to buy.
Confirm the transaction and wait as your coins are delivered to your wallet.
Step 3: How to Buy CAKE through Pancakeswap
Having funded your wallet with cryptocurrency assets, you can now buy Pancakeswap tokens. We must raise an important point here that you cannot buy CAKE directly on Trust Wallet. To buy CAKE, you have to connect your Trust Wallet to Pancakeswap and exchange the established coin in your wallet for the token.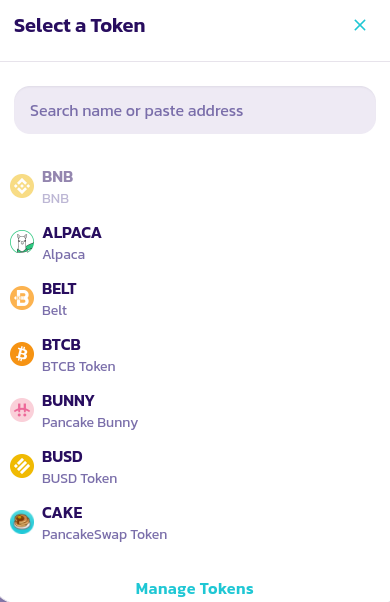 If this is your first time connecting Trust Wallet to Pancakeswap, follow this guideline to simplify the process.
After connecting your Trust Wallet to Pancakeswap, click on 'DEX.'

Click on the 'Swap' button.

Select 'You Pay' and choose the coin you want to pay with. The coin must be the same as the one in your wallet.

Click on 'You Get' and pick CAKE from the options given. It will display the swapping rates between the established coin you are paying with and CAKE.

Click on 'Swap.'
Confirm your transaction, and your CAKE tokens will be delivered to your wallet in minutes.
Step 4: How to Sell CAKE
Once you know how to buy Pancakeswap, understanding the selling process is an easy task. You can sell CAKE tokens by following one of the two methods available.
First, you can sell by swapping your CAKE tokens for another cryptocurrency asset or for fiat money. We have explained the two methods here.
To sell your CAKE by swapping for another cryptocurrency, the process is similar to buying the token. The difference is that you have to select CAKE in the 'You Pay' box and choose the asset you intend to buy in the 'You Buy' section. You can also do this on Pancakeswap, where you will have a variety of assets to choose from.

The second option is to sell your CAKE tokens directly for fiat money. Sadly, you cannot do this on Pancakeswap, so you have to connect to a centralized exchange such as Binance. 
Binance is the network on which the CAKE token was created; therefore, the exchange supports the coin and several others. Send your CAKE to Binance, complete the KYC process, and you will receive the worth of your tokens in fiat money. You can then move the funds to your bank account accordingly.
Where Can You Buy CAKE Online?
Most of the transactions carried out in the cryptocurrency market occur online, and buying CAKE is not excluded. To buy CAKE, you must have a wallet and connect it to an exchange platform. The most suitable exchange platform for CAKE is Pancakeswap, the project from which the token was created.
Pancakeswap – Buy CAKE Through a Decentralized Exchange
Pancakeswap is a decentralized exchange that makes use of the Automated Market Maker (AMM) system. This system is known for eliminating the need for a third party intermediary and facilitating transactions directly between investors. When you invest using Pancakeswap, you can eliminate the limits set by centralized exchanges and brokers.
With CAKE being Pancakeswap's native token, the asset thrives most on this platform. Here, you can buy, sell, stake, farm, and do various other transactions with the token. In addition, as an investor, you can invest your CAKE in liquidity pools and earn impressive returns on it. However, as profitable as the pools are, you have to trade with caution.
LP tokens afford holders many opportunities, from profits on their capital to reduced trading costs when they perform transactions on the platform. The profit you earn from Pancakeswap liquidity pools depends on how much cryptocurrency you invest and the duration of time the investment spends.
Holding CAKE also grants you the opportunity to enjoy most of the services offered by Pancakeswap. This includes access to the DEX's SYRUP pools, yield farms, and NFTs, where you can earn more on your investments. Each feature comes with different directives, but most allow you to earn while making the most of your assets.
Pros:

Exchange digital currencies in a decentralized manner
No requirement to use a third party when buying and selling cryptocurrency
Supports a sizable number of digital tokens
Allows you to earn interest on your idle digital assets
Sufficient levels of liquidity – even on smaller tokens
Prediction and lottery games
Cons:
Might appear daunting at first glance for newbies
Does not support fiat payments directly
Always consider the risks involved when buying cryptocurrencies. Digital assets are highly speculative and volatile. 
Ways to Buy CAKE
There are two primary ways to buy CAKE, and we will explain both below. You can either purchase CAKE with cryptocurrency or a credit/debit card. Knowing how to use both methods is necessary when learning how to buy Pancakeswap.
We have explained both options below.
Buy Pancakeswap with Cryptocurrency
To buy CAKE, you must have an established coin in your wallet. You can get these coins by transferring them from another wallet. After successfully transferring cryptocurrency to your Trust Wallet, you can connect to Pancakeswap and exchange the coin for CAKE tokens.
Buy Pancakeswap with Credit/Debit Card
Another way to buy CAKE is to buy major coins directly on Trust Wallet with your credit/debit card. Then, connect to Pancakeswap and exchange the established cryptocurrency for CAKE tokens.
Should I Buy Pancakeswap (CAKE)?
Many people are usually conflicted when making investments, especially in digital assets. If you have concerns about buying CAKE, look through some factors that can determine whether the token is worthy of investment.
Technical Support
Supported by the largest cryptocurrency exchange in the world, CAKE has most of the technical and corporate support it needs from Binance. Binance is the largest exchange, and Pancakeswap is gradually edging out competition in the Defi space such as Uniswap and Sushiswap.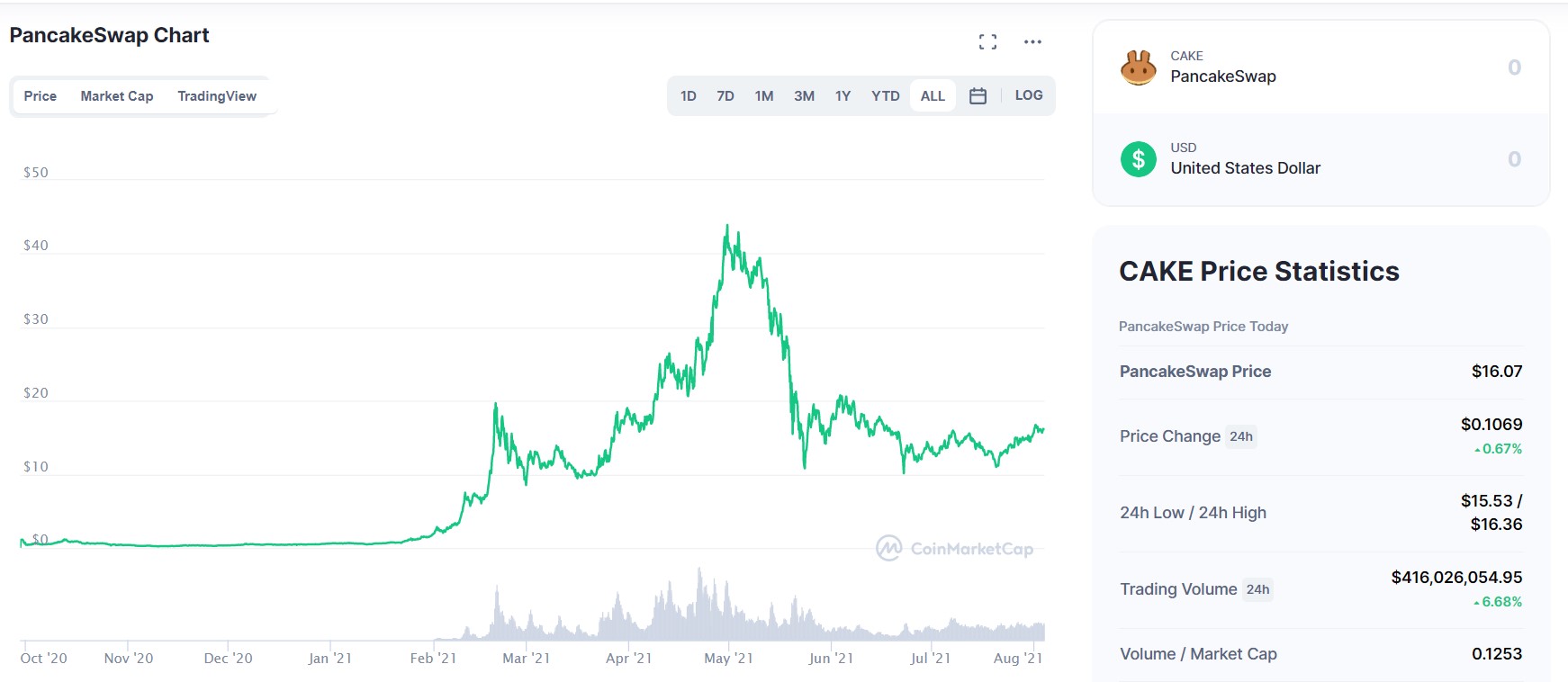 In addition to the authority of Binance and transparency of the Pancakeswap DEX, the project was also audited by CertiK, assuring investors that their tokens are safe.
True to this, Pancakeswap has not been hacked in all the time it has been in operation. However, this is not a blanket excuse to invest in the token, as you have to do your research before going ahead.
Long-Term Project
The growing long-term projects around the CAKE token are steady and give off the air that the coin has a secure future ahead.
Binance CEO, Changpeng Zhao has avid interests in the Binance Smart Chain, the protocol on which Pancakeswap sizably relies.

Whatever projects come from this protocol will affect CAKE, and expectations are that any future product from the chain will achieve impressive success.

If future projects from the protocol succeed, the value of CAKE could rise, and in turn, this may result in attractive gains.
However, all is still based on speculation at this stage, meaning your buying decision should stem from research.
Earning Potential
There is a potential to earn big with CAKE on Pancakeswap. While the platform is open for exchanges of various types, it is more welcoming to investors who hold its native governance token, CAKE. By holding CAKE, you can enjoy general features such as investing in liquidity pools. 

Additionally, you also enjoy exclusive benefits such as staking in SYRUP pools, farms, maximizing the prediction feature, and the lottery. Pancakeswap also offers NFT collectibles to investors with which you can earn more CAKE tokens.
In addition to the pros mentioned above, the cost of trading on the platform is also lower for CAKE holders. Considering all of these, CAKE affords numerous opportunities for holders, whether for the long or short term.
CAKE Price Prediction
So far, CAKE has fared better than all predictions, and if the token holds onto its stable growth, continuous price increases could become notably profitable.
Irrespective of commentaries on the potential of the coin, CAKE remains a volatile asset that should be treated as such. This means you should read beyond the surface and understand more about the coin before investing.
Risk of Buying CAKE
The primary risk involved in buying CAKE is the volatility that comes with all cryptocurrencies. The entire digital asset market is susceptible to speculation, and any change in the economic or political atmosphere can significantly impact the value of digital assets.
With this in mind, you can mitigate potential CAKE risks by taking some steps:
Doing adequate research on the asset before investing;

Investing only as much as you can afford to lose;

Staying abreast of news and information in the market;

Ensuring the risk of CAKE is not greater than your appetite;

Diversifying your portfolio; etc.
Best CAKE Wallets
By now, you know and understand how to buy Pancakeswap. Consequently, the next thing is to know the best wallets for the token.
We have provided you with some of the best options in the market, and they are:
Trust Wallet: Overall Best CAKE Wallet
Our pick for the overall best CAKE wallet is Trust. With CAKE being a Binance-based token and Trust Wallet having great sync with the cryptocurrency giant, buying and storing the coin becomes seamless.
In addition, Trust Wallet allows you to connect directly to Pancakeswap to buy, sell, and trade CAKE. Being a multicurrency wallet, Trust also allows you to hold other cryptocurrency assets apart from CAKE at the same time.
MetaMask: Best CAKE Wallet in Compatibility
When CAKE was created, MetaMask was one of the first external wallets to feature the token. The multicurrency wallet allows CAKE to be bought, sold, stored, and traded at little cost. Since the creators of MetaMask took CAKE into cognizance while designing the wallet, it is one of the most compatible options for the token.
Safepal S1: Best CAKE Wallet in Security
Safepal S1 cryptocurrency wallet does two things right for CAKE.
One, it provides top-notch security for users as it is a hardware wallet built to store cryptocurrencies offline.

Two, it provides a level of accessibility that is unmatched by other hardware wallets.

On the first point, hardware wallets are more secure than their software counterparts.

The reason for this security strength lies in the offline storage of cryptocurrencies, which protects them from one of the market's significant risks: being stolen by hackers.
On accessibility, Safepal allows users of the S1 wallet to access their portfolios from their mobile phones using the app.
How to Buy Pancakeswap – Bottom Line
Here is the summary on how to buy Pancakeswap; start by downloading Trust Wallet on your app store. Then, add established coins to your wallet and connect to Pancakeswap. Finally, exchange the established coin for CAKE on the app and store accordingly.
Following this straightforward process will get you Pancakeswap tokens within a few minutes. Continue to do this frequently, and you'll soon become an expert cryptocurrency trader!
The Pancakeswap DEX (decentralized exchange) can also be used to buy Lucky Block, one of the best cheap cryptocurrency assets to buy now based on an over 40x gain in early 2022.
We also reviewed LBLOCK in our news section.
Buy CAKE Now via Pancakeswap

Always consider the risks involved when buying cryptocurrencies. Digital assets are highly speculative and volatile.
FAQs
How much is CAKE?
As at early August 2021, the price of CAKE jostles between $15 to $16.
Is CAKE a good buy?
CAKE can be a good buy, but that reality depends on a lot of factors. The token is supported by cryptocurrency giants and has a solid project backing it. Some commentators say that it may witness impressive growth in the coming years. But of course, you should note that these predictions have no tangible data to back their positions. As such, determining whether the coin is a good buy should be based on your personal research.
What is the minimum CAKE tokens you can buy?
Whether you buy CAKE from Pancakeswap or any other exchange, there is no minimum amount of CAKE you cannot buy. CAKE was created to challenge the monopolization of the Defi market by Ethereum-based tokens; therefore, you can buy as much as you can afford.
What is the CAKE all-time high?
The all-time high for CAKE happened on 30 April, 2021, when it peaked at $44.18. The all-time low was $0.19, which happened on 03 November, 2020.
How do you buy CAKE tokens using a debit card?
You cannot buy CAKE directly with a debit card. Therefore, if you're concerned about how to buy CAKE using a debit card, you have to purchase an established cryptocurrency first. Start by using your debit card to buy an established coin such as BTC or ETH on Trust Wallet. Then, connect to Pancakeswap.
How many CAKE tokens are there?
CAKE has over 204 million tokens in total supply, and all are in circulation. To prevent oversupply, the Pancakeswap Treasury occasionally burns CAKE tokens to manage the volume in circulation. As at the time of writing in August 2021, the coin has a market capitalization of over $3.2 billion.