Ampleforth is a cryptocurrency protocol with an algorithm that adjusts its supply in correlation to its token's price movement. Designed to be priced as close to $1 as possible, Ampleforth goes through a 'rebase' daily. A rebase is when the supply of an asset increases whenever the price goes above $1.06 and reduces when it goes below $0.96.
With this system in place, investors do not own a fixed amount of tokens. Instead, they hold a fixed fraction of the total tokens in circulation. Thus, when a rebase occurs, the price of Ampleforth in your wallet will reflect the new development, but there is no cause for alarm; the fraction of tokens you own is still technically the same.
Ampleforth is chain-agnostic and is created to be the new base currency in the digital assets market. In this guide, we will show you how to buy Ampleforth in a simple and fast way.
How to Buy Ampleforth: Quickfire Walkthrough to Buy Ampleforth in Less Than 10 minutes
If you are conversant with the cryptocurrency market, you can learn how to buy Ampleforth in less than 10 minutes. So, let's start with a quickfire guide for those of you in a rush:
Step 1: Download Trust Wallet:

You have to begin by installing Trust Wallet on your phone. With this wallet, you can connect to Pancakeswap to buy Ampleforth. You can get Trust Wallet for free on Google Play or App Store. 

Step 2: Search for Ampleforth:

Once your Trust Wallet is set up, you can look for the token on the homepage. The search bar is located at the top right corner when you open Trust Wallet. Type "AMPL" and you will see the token among the options available.

Step 3: Add Cryptocurrency Assets to Your Wallet:

At this point, you have to fund your Trust Wallet by adding some cryptocurrency to it. You can fund it in one of two ways –  you can either send cryptocurrency from an external source or by buying digital tokens directly with your debit/credit card. 

Step 4: Connect to Pancakeswap:

Now that you have your wallet set up and funded, you should link it to Pancakeswap to exchange the coin you bought for Ampleforth. From your Trust Wallet interface, select 'DApps' and pick Pancakeswap. Next, click on the 'Connect' button, and you will be connected to the exchange platform.

Step 5: Buy Ampleforth:

Finally, you can purchase AMPL tokens. On Pancakeswap, click 'Exchange.' Then, pick the cryptocurrency you want to pay with under 'From' and Ampleforth in the 'To' category. Click 'Swap' and confirm your purchase. In no time, your Ampleforth tokens will reflect in your wallet.
There it is! All done in under 10 minutes.
Always consider the risks involved when buying cryptocurrencies. Digital assets are highly speculative and volatile. 
How to Buy Ampleforth – Full Step-by-Step Walkthrough
You have learned how to buy Ampleforth concisely, which should take you 10 minutes or less. Now, it is time to gain an in-depth knowledge of the process. Here, we will answer the questions you may have about what each step entails when learning how to buy Ampleforth.
Step 1: Download Trust Wallet
You should begin by downloading Trust Wallet. Depending on the type of device you are using, you can download the wallet from either Google Play or App Store. Once you download the wallet, install and set it up accordingly. This process will require you to create a PIN, after which Trust will generate a 12-word passphrase for you.
Your passphrase is unique and will give you access to your wallet in the event that you forget your PIN or lose your device.
Step 2: Add Cryptocurrency Asset to Your Trust Wallet
The next step is to add some coins to your wallet. There are two ways for you to do this. The first is to transfer cryptocurrency from another wallet into your Trust, while the second method is to buy digital tokens directly on the app with a debit or credit card.
We will take you through both processes below.
Send Cryptocurrency from an External Wallet
The first way to add assets to your wallet is to send some from an external source. Of course, this option is only feasible if you have another wallet. If so, follow this step-by-step process to get started.
Open Trust and click on the 'Receive' bar.

Choose the asset you want to transfer.

Copy the special wallet address given.

Open the second wallet and paste the address copied from Trust.

Enter the number of cryptocurrency tokens you wish to send.

Confirm your transaction.
The transferred cryptocurrency will reflect in your wallet shortly afterward.
Buy Cryptocurrency Using Credit/Debit Card
The other way to add assets to your wallet is to buy digital tokens directly on Trust. This method is helpful if you do not have another wallet from which you can transfer funds. The process is straightforward, as we have explained below.
Open Trust Wallet and select the 'Buy' tab.

Verify your identity by completing the Know Your Customer (KYC) process.

Preferably, buy an established token like Binance Coin (BNB). Input the number of cryptocurrency tokens you intend to buy.

Confirm the purchase.
You will see your cryptocurrency tokens in your wallet almost immediately.
Step 3: How to Buy Ampleforth Through Pancakeswap
At this stage, you need to know how to buy Ampleforth using Pancakeswap. First, you should know that Pancakeswap is one of the top decentralized exchanges (DEX's) available in the market. The DEX is known for its cost-effectiveness and swiftness when executing Defi token transactions.
Here is a step-by-step process on how to buy Ampleforth through Pancakeswap.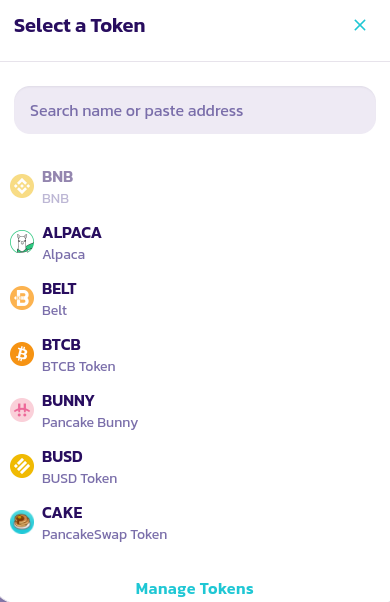 Click on 'DEX' and then 'Swap.'

Follow that by clicking on 'You Pay,' where you will pick the cryptocurrency with which you intend to exchange.

Enter the amount you want to pay and go to 'You Get.'

Choose Ampleforth and view the swapping rates.

If you are comfortable with the current market price, click on 'Swap' and confirm your trade.
You will see the Ampleforth tokens in your wallet shortly after.
Step 4: How to Sell Ampleforth
One more thing to learn is how to sell Ampleforth. You can sell your Ampleforth tokens whenever you desire in either of the two following ways. 
The first way to sell Ampleforth is to swap the token for another asset. You can do this on Pancakeswap by following the same steps you took when buying the token. The slight difference, however, is that you will choose Ampleforth under 'You Pay' rather than 'You Get.' Then, select the new asset you want to get under the latter category.

The second option is to sell your Ampleforth tokens for fiat money, but this cannot be done on Pancakeswap. Therefore, you have to send your tokens to a centralized platform like Binance. This is the largest cryptocurrency platform globally, and you can sell your tokens there for fiat money. Notably, you will have to provide some personal details and upload a copy of a government-issued ID to fulfill Binance's KYC process.
Where Can You Buy Ampleforth Online?
There are several places you can buy Ampleforth online, but your options are essentially between centralized and decentralized exchanges. Known as CEX's and DEX's respectively, the major difference between these platforms is in their setup. With DEX's, you don't need a third-party intermediary to buy Ampleforth.
One of the leading DEX's to buy Ampleforth is Pancakeswap – and we talk about the reasons for this in the section below. 
Pancakeswap – Buy Ampleforth Through a Decentralized Exchange

Pancakeswap is a DEX that uses the Automated Market Maker (AMM) model. This model allows you to trade Ampleforth against a liquidity pool instead of having to buy tokens from sellers in real-time. The AMM can be highly cost and time-effective, as shown by platforms such as Pancakeswap.
While it is not the first DEX in the market, Pancakeswap is fast becoming the go-to provider in this space due to the unmatched benefits it offers. For example, the platform saves you more time on average than most of its competitors. It is also cheaper to trade on the DEX, and its swapping rates are some of the best you will find in the market, especially for tokens like Ampleforth.
Pancakeswap has large liquidity pools which are the major attractions for many investors. After buying your Ampleforth on Pancakeswap, you can earn some extra money from your unused tokens, as they contribute to the protocol's liquidity pool. Additionally, another way to increase your Ampleforth earnings is by staking your tokens. 
By staking in these pools, you earn LP (liquidity providers) tokens to access your funds when you desire. Other ways to earn on Pancakeswap include staking in yield farms, betting in the lottery or prediction pools, and claiming NFTs. To buy Ampleforth through Pancakeswap, you simply have to download Trust Wallet and connect it to the DEX.
Pros:

Exchange digital currencies in a decentralized manner
No requirement to use a third party when buying and selling cryptocurrency
Supports a sizable number of digital tokens
Allows you to earn interest on your idle digital assets
Sufficient levels of liquidity – even on smaller tokens
Prediction and lottery games
Cons:
Might appear daunting at first glance for newbies
Does not support fiat payments directly
Ways to Buy Ampleforth
There are two primary ways to buy Ampleforth, depending on how you decide to fund your wallet.
These two ways are explained below:
Buy Ampleforth With Cryptocurrency
The first way to buy Ampleforth is with cryptocurrency. Here, you fund your wallet by transferring established cryptocurrency tokens to it from an external source. Then, after receiving the coins in Trust, link the wallet to Pancakeswap and exchange the transferred cryptocurrency for Ampleforth tokens.
Buy Ampleforth With Credit/Debit Card
Another way to buy Ampleforth is to use your credit/debit card. With this method, you purchase established cryptocurrency directly on Trust Wallet with your Visa or MasterCard.
This process will require you to undergo a KYC procedure to verify your identity. After this, connect to Pancakeswap and exchange the purchased cryptocurrency you have bought for Ampleforth.
Should I Buy Ampleforth?
This question is often asked when learning how to buy Ampleforth or any other cryptocurrency for that matter. However, this is a question that's answered differently by every investor.
The cryptocurrency market is volatile and unpredictable. Therefore, you need to conduct extensive research before deciding to buy Ampleforth tokens. To make this process easy, we have provided you with some pointers:
Innovative Reward System
Ampleforth has an impressive reward system that is entirely different from that of other cryptocurrencies in the market. When you buy Ampleforth, you do not own the particular amount of tokens you purchase.
Instead, you possess a fixed percentage of the circulating supply. Thus, when a rebase occurs, the value of your assets may increase or decrease, but the fraction you own will remain the same.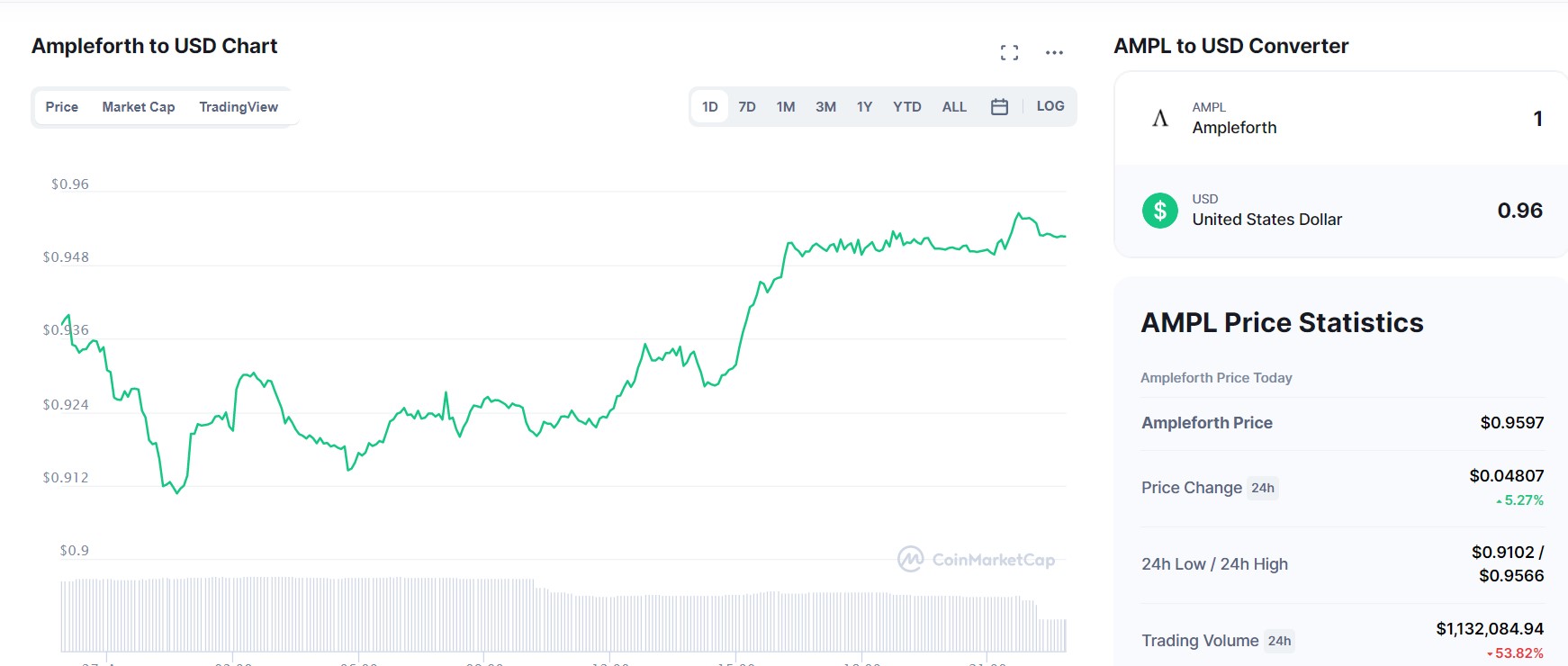 This system serves as an incentive for investors to buy a lot to own more of the token's circulating supply. If you find this reward system interesting, you might want to read more about Ampleforth. You should remember, though, that there are no guarantees concerning the prospect of the project itself.
Stability
The team behind Ampleforth has established that the project has big goals, and there are many benefits for all parties involved if these objectives are achieved.
The principal aim of the protocol is to become the base money for the booming decentralized market. 

The market is still largely open, and if Ampleforth can secure a solid part of it, the demand for the token could rise significantly.

In that case, with the token's stability, Ampleforth can become the go-to stablecoin for investors looking to minimize their risk exposure in the cryptocurrency market.
Furthermore, another perk of Ampleforth is that the token's stabilization system is run by unique software. This is unlike some other Defi coins that are operated by central regulators. The Ampleforth team believes that users will eventually find it more rewarding to use the protocol's stabilization metrics in the long run.
Corporate and Technical Support
The Ampleforth project has sufficient technical and corporate support to achieve its objectives. The founding team consists of highly specialized personnel such as Evan Kuo, Brandon Iles, and about a dozen other engineers who have worked with top firms in the cryptocurrency, finance, and technology markets.

Top-level support for Ampleforth is provided by platforms such as Compound Finance, Chainlink, TRON, NEAR, Polkadot, and others. Also, being built on the Ethereum blockchain provides the protocol with the security and setup of this more established platform. This support gives solid backing to Ampleforth to carry out its objectives in the coming years.
Ampleforth Price Prediction
Ideally, when it comes to stablecoins like Ampleforth, price predictions should be completely irrelevant since these tokens always hover around a particular price, mostly $1.
However, with Ampleforth having an all-time high (ATH) of $4.04 - which it attained on 12 July 2020, it's clear that this stablecoin's price can fluctuate far above or below $1.

Although it is the goal of the Ampleforth team to stabilize the price of the cryptocurrency at around $1, in reality, how the token performs in the market is beyond their capacity.
However, this doesn't validate the numerous price predictions you'll find online. Instead, research thoroughly about the project before investing so that you can be more informed. 
Risk of Buying Ampleforth
As stated above, the coin's all-time high is $4.04, as at the time of writing in late August 2021. In the same manner, the token's all-time low (ATL), which it attained on 14 June 2021, is $0.27. These two occurrences indicate that there are certain risks pertaining to this stablecoin.
Risks linked to Ampleforth, therefore, include a lack of assurance for its stability as reflected in its ATH and ATL.

Also, there's no guarantee that Ampleforth will achieve its goal of serving as the base money for the decentralized market.

Therefore, it may end up as a cryptocurrency project that makes lofty promises but doesn't end up achieving its objectives.
Having realized some of these risks, it's important to not only research the token adequately but also stay updated with market news to be aware of potential drops in Ampleforth's price. 
Best Ampleforth Wallet
As you have learned how to buy Ampleforth, you also need to know where to store your tokens. The importance of using a good wallet is that your Ampleforth tokens will be kept safe and secure. There are different kinds of wallets, from hardware to software options.
Below are some of the best wallets to store your Ampleforth tokens.
Trust Wallet: Overall Best Ampleforth Wallet
Trust Wallet tops the list when it comes to the best place to store your Ampleforth tokens. This wallet is compatible with Pancakeswap through which you can buy Ampleforth. In addition, Trust is backed by Binance, indicating the wallet's credibility. It's also super-easy to use, which makes Trust ideal for newbies. 
Trezor One White: Best Ampleforth Wallet in Security
Hardware wallets are reputable for providing an unmatched level of security for storing digital tokens. These wallets keep your cryptocurrency tokens safe by storing them offline. One such hardware wallet, Trezor One White, is well worth considering. The wallet supports hundreds of tokens, meaning you can diversify your portfolio conveniently. 
MyEtherWallet: Best Ampleforth in Compatibility
Being an ERC-20 token, Ampleforth is highly compatible with this Ethereum-based wallet. In addition to its compatibility with all other ERC-20 tokens, MyEtherWallet supports cryptocurrencies built on alternative blockchains. This wallet is web-based, which allows you to access your Ampleforth tokens at any time you desire. 
How to Buy Ampleforth – Bottom Line
In summary, you should now comfortably know how to buy Ampleforth tokens - even if this is your first time in the Defi scene. You should begin by downloading Trust Wallet on your phone.
Then, fund your wallet with some established cryptocurrency tokens like BNB or ETH. Finally, connect to Pancakeswap and exchange the deposited cryptocurrency for Ampleforth tokens.
Buy Ampleforth Now via Pancakeswap

Always consider the risks involved when buying cryptocurrencies. Digital assets are highly speculative and volatile.
FAQs
How much is Ampleforth?
The price of Ampleforth fluctuates daily, which causes the supply to be regulated concurrently. As of late August 2021, Ampleforth is averaging a pricing level of $0.90 and $0.96.
Is Ampleforth a good buy?
If you are learning how to buy Ampleforth and have yet to decide if the token is a good buy, you have some more work to do. You have to conduct thorough research on the trajectory of the token and its future projections to be sure whether you want to buy the coin. Once you do this, you'll have more insights on the project and can decide whether it's a good buy for you or otherwise.
What is the minimum Ampleforth tokens you can buy?
The Ampleforth protocol does not set a limit on how many tokens you can buy. Therefore, you can buy as much or as little Ampleforth as you desire. You can, however, experience some challenges on certain exchanges, as they might have set limits on how many Ampleforth tokens you can buy at a time. This is why Pancakeswap remains your best option to buy Ampleforth - as no such limits exist.
What is the Ampleforth all-time high?
The all-time high for Ampleforth is $4.04, which was recorded on 12 July 2020. The coin's all-time low of $0.27 occurred on 14 June 2021.
How do you buy Ampleforth tokens using a debit card?
Since you cannot buy Ampleforth directly with your debit card, what you have to do is purchase some established cryptocurrency through your Trust Wallet. Then, open Pancakeswap and exchange the purchased coin for Ampleforth tokens.
How many Ampleforth tokens are there?
Ampleforth has a maximum supply of 395 million tokens, of which about 32% is currently in circulation. One of the peculiarities of Ampleforth is that it does not have a fixed amount of tokens in circulation. The circulating supply changes daily depending on how the price of the token performs in the general market. The coin's market capitalization is at over $114 million, as at the time of writing in late August 2021.