DODO is a decentralized exchange (DEX) protocol that utilizes a Proactive Market Maker (PMM) system to carry out numerous innovative functions. For example, the protocol connects both cross-chain and on-chain buyers and sellers while allowing them to set their own prices, among many other benefits. 
This page will show you that the process of how to buy DODO is super easy by summarizing and elaborating the necessary steps. 
How to Buy DODO – Quickfire Walkthrough to Buy DODO In Less Than 10 Minutes 
The process of how to buy DODO may appear daunting at first glance. However, an impressive way to simplify this will be to use a DEX like Pancakeswap to purchase the tokens. In this section, we will show you how to buy DODO within ten minutes and right from the comfort of your home. 
Step 1: Download Trust Wallet:

As we established above, Pancakeswap is a seamless way to buy DODO tokens, and you can access it through Trust. The Trust Wallet is available via a smartphone app, and you can download and set it up within seconds. 

Step 2: Search For DODO:

The upper right corner of your Trust Wallet is where you will look for the coin. 

Step 3: Add Cryptocurrency Assets to Your Wallet:

To fund your Trust Wallet, you can transfer cryptocurrency from an external source or simply buy with your credit/debit card. The former option may not be available to a cryptocurrency newbie because they are likely not to own any digital assets yet. 

Step 4: Connect to Pancakeswap:

Your next step will be to create a connection between this DEX and Trust Wallet, and you can do it by opening the 'DApps' feature. Next, select 'Pancakeswap' from the available options and click connect. 

Step 5: Buy DODO:

You can now buy as many or as few DODO tokens as you wish. After all, there are more than 110 million tokens in circulation. Simply locate the 'Exchange' bar, and choose the token you will use to buy DODO via the 'From' drop-down box. Then on the other side, you will find a 'To' icon, and you can choose DODO and the number of tokens you want.
Finally, complete your exchange, and await your newly purchased DODO tokens. You can check your Trust Wallet straight away – as Pancakeswap transactions occur in real-time. If you would like to sell the tokens further down the line, you can simply open Pancakeswap and begin a similar process as above – but in reverse. 
Always consider the risks involved when buying cryptocurrencies. Digital assets are highly speculative and volatile. 
How to Buy DODO – Full Step-By-Step Guide to Buy DODO
A summarized guide on how to buy DODO may be sufficient if you are in a rush and would like to finish up within ten minutes. However, if you want a more detailed explanation, you can read the guide below. 
It will undoubtedly help you if you have never traded cryptocurrencies before or are using a DEX for the first time. 
Step 1: Download Trust Wallet 
Trust Wallet and Pancakeswap work perfectly well together, like two pieces of a puzzle. However, you have to download Trust Wallet to access Pancakeswap, and with a fast internet connection, you can get it via the App or Google Play Store in less than a minute.
The wallet is also very secure for storing your DODO tokens, so you essentially kill two birds with a stone. You can set up your Trust Wallet easily, but pay attention to selecting an impenetrable and unforgettable PIN.
Trust Wallet gives every new user a unique 12-word passphrase that you can write down and store in a place that isn't easily accessible. If you lose access to your wallet by either forgetting your PIN or losing your phone, you may use your passphrase to retrieve it. 
Step 2: Add Cryptocurrency Assets to Your Wallet 
If you have just downloaded and set up your Trust Wallet, then you probably do not own digital assets. Hence, you have to deposit cryptocurrency tokens into your wallet before you can execute any trades. There are two available methods, with one being particularly suitable for a new cryptocurrency trader. 
Send Cryptocurrency Tokens From Another Source 
You may choose to send cryptocurrency tokens from another wallet if you already own some coins. The process is really straightforward but might take about 10 – 20 minutes since you are using a centralized trading platform to send the tokens. 
You need to copy your unique receiving wallet address by opening Trust Wallet. 

Choose the token you want to send from the external exchange, and copy the address Trust displays.

It is best to choose an established cryptocurrency for your transaction because this will allow you to easily swap the token for DODO. 

Log in to the exchange where the tokens are stored and paste the address alongside the quantity you wish to transfer. 

Then, you can complete the transaction. 
You will receive the tokens in your Trust Wallet in less than 20 minutes. 
Buy Cryptocurrency Tokens With Your Credit/Debit Card
Alternatively, you may not own any tokens if you have never traded before. However, you can easily purchase some from Trust Wallet at the click of a button.
But first, you will have to verify your identity by completing its Know Your Customer (KYC) process. Essentially, this entails filling in important personal information and uploading pictures of a government-issued identity card. 
Then, you can buy your base tokens by following these three simple steps. 
Find the 'Buy' tab on the Trust Wallet app. The wallet will show you all the tokens you can purchase with your card, but we recommend choosing a popular one like BNB (Binance Coin). 

Choose the quantity you want to buy. 

Then, provide your card details where Trust Wallet requires them, and complete your transaction. 
You will receive your tokens within a few minutes. 
Step 3: How to Buy DODO 
You have now completed all the preliminary steps required and can purchase your DODO coins. If you haven't already connected to Pancakeswap, you can refer to the fourth step in the quickfire guide above.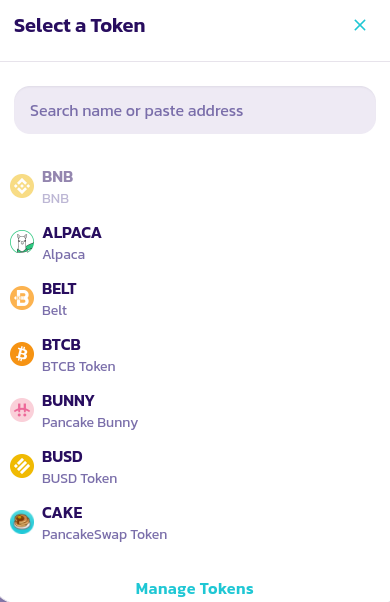 Locate the DEX option on your Trust Wallet page and choose 'Swap.'

It will unveil a 'You Pay' tab, and you may choose the token you bought or transferred to your Trust Wallet. Subsequently, select the quantity too. 

On the other side, you will see the 'You Get' tab, where you may choose DODO tokens from the list Pancakeswap provides. 

You can then click 'Swap' to complete the exchange. 
Your newly purchased DODO tokens will immediately reflect in your Trust Wallet. 
Step 4: How to Sell Dodo
If you intend to delve into long-term cryptocurrency trading, it will not be enough to simply learn how to buy DODO or any other coin you may be looking to purchase later on. You also need to know how to sell your tokens, which is equally a straightforward process. 
You can sell DODO tokens through a centralized or decentralized exchange platform, as you will come to see. 
Swap for Another Cryptocurrency Token 
You may choose this option if you are not ready to cash in your profits for fiat money. There are over five hundred different cryptocurrency coins on Pancakeswap, and you can exchange your DODO tokens for one you think has the potential to skyrocket. 
The process is similar to buying DODO. However, you will choose DODO in the 'You Pay' section and your new cryptocurrency under 'You Get.'
Sell for Fiat Money 
Alternatively, you may sell your DODO coins for fiat money. However, you will be going through a centralized exchange. For this, you may opt for Binance. It is one of the top centralized exchange platforms globally, and Trust Wallet collaborates with it.
Hence, it will be effortless to move your DODO coins and sell them there. Binance disapproves of anonymous transactions when using fiat money. As such, you will have to complete its KYC process beforehand. 
Where Can You Buy DODO Tokens Online? 
DODO has a large supply of tokens in existence, with over 110 million in circulation. Essentially, this means that you can easily get some to purchase. However, it is best to use a DEX like Pancakeswap to do this, and you will realize why shortly. 
Pancakeswap – Buy DODO Via a Decentralized Exchange
Pancakeswap is a new DEX that was established in 2020. However, it has fared so well in the decentralized exchange market and subsequently earned itself a spot among the top platforms in terms of liquidity and volume. It exists to dispense with the unnecessary need for you to go through an intermediary in your cryptocurrency exchanges. 
Pancakeswap also has a ton of other benefits that endear it to thousands of new users daily. For one, it provides you with numerous money-making avenues. For instance, you may choose to stake your idle coins and serve as a liquidity provider for the protocol. You stand a chance to earn rewards that you can subsequently convert into profits at any given time. 
You may also opt for a farming opportunity, as there are several ones on the DEX. However, you have to be quite cautious, mainly because if you have never utilized a farming opportunity before, you should know that there are risks involved. If you also enjoy fast trade execution services, then Pancakeswap is the perfect DEX for you. It executes transactions within record time without delay.
Irrespective of your order size, you also get to pay a lot less for your transactions on Pancakeswap. Typically, the transaction fee ranges from $0.04 to $0.20. If you also want to sell your DODO tokens, there is abundant liquidity on the DEX. Pancakeswap is also excellent if you intend to diversify your cryptocurrency portfolio, as it provides you with a wide range of Defi coins and alt tokens.
Pros:

Exchange digital currencies in a decentralized manner
No requirement to use a third party when buying and selling cryptocurrency
Supports a sizable number of digital tokens
Allows you to earn interest on your idle digital assets
Sufficient levels of liquidity – even on smaller tokens
Prediction and lottery games
Cons:
Might appear daunting at first glance for newbies
Does not support fiat payments directly
Always consider the risks involved when buying cryptocurrencies. Digital assets are highly speculative and volatile. 
Ways to Buy DODO Tokens 
Since you have come so far in learning how to buy DODO tokens, you may also be looking into the many different ways to purchase them. There are two ways to buy DODO, and the one you opt for will largely depend on whether you already own some cryptocurrency tokens or not. Nevertheless, they are both straightforward processes. 
Buy DODO Tokens With Your Credit or Debit Card 
One of the extraordinary services Trust Wallet provides you is that you can use your credit/debit card to purchase a range of cryptocurrencies. You simply have to verify your identity and finish its KYC process, then seamlessly purchase the tokens you will exchange for DODO coins. 
Next, establish a connection between Pancakeswap and Trust Wallet, and finally complete the process by swapping the tokens you purchased for DODO coins. 
Buy DODO Tokens With Cryptocurrency
If you already have some digital assets in another wallet, then that is great! You can easily transfer the quantity you need to your Trust Wallet, connect it to Pancakeswap and then buy your DODO tokens. 
Should I Buy DODO Tokens? 
Before you invest in DODO, you have to ask yourself if it will be worth your time and money. Well, you can never know for sure as it is a volatile asset. However, a good cryptocurrency trader knows the research materials to look out for, and you can find them by reading about the DODO protocol and fully understanding its essence. 
Subsequently, we have listed a few points you may want to consider while gathering sufficient information about DODO and its native Defi coin. 
Low Price 
In the cryptocurrency markets, a token that has a low price may make an attractive investment. This is because the token is still in its early stages. Therefore, in comparison to coins like BTC and Ethereum, when you make a small investment in DODO, you'll get a large amount of the token.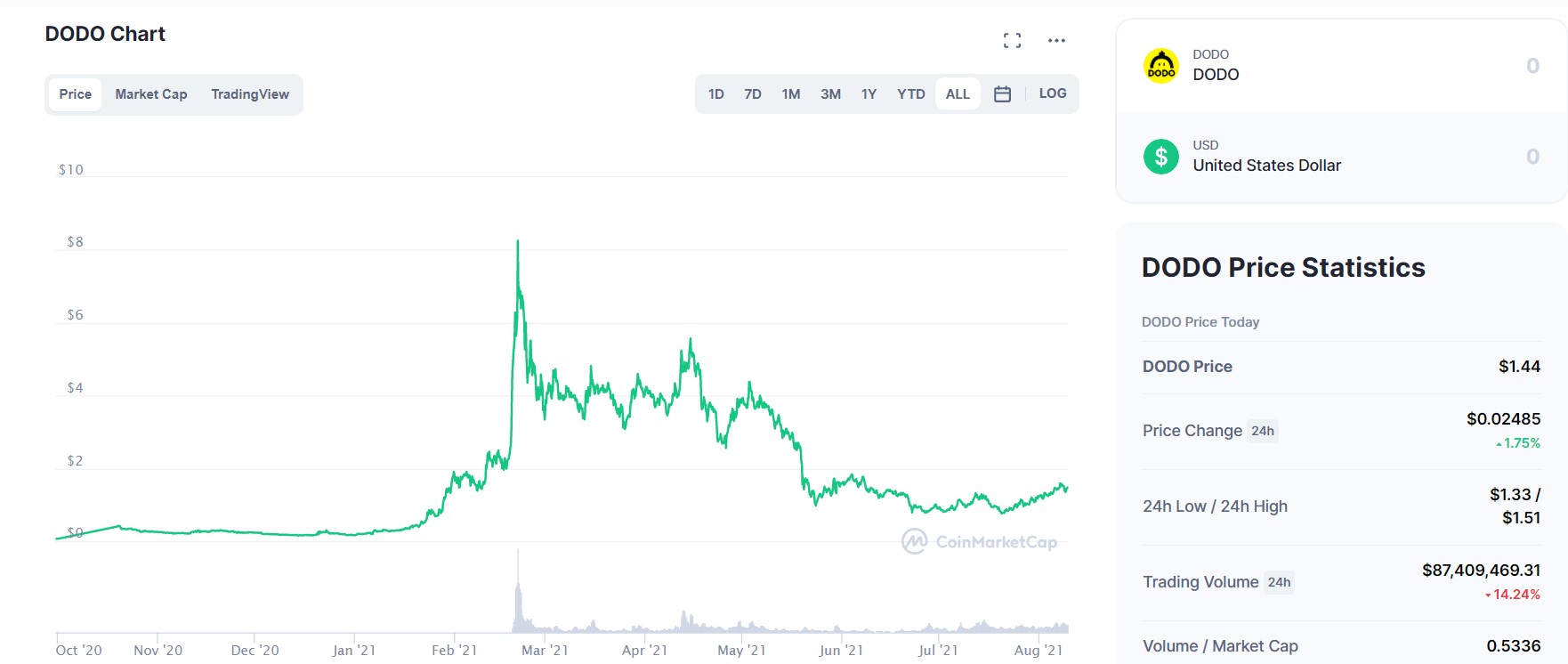 One DODO token has a value of $1.56 at the time of writing, which is early August 2021. An investment of $1,000 will therefore give you over 640 DODO tokens. Additionally, buying a coin when the price is low (in comparison to prior peaks) might be a good strategy - since this means you have more to sell at a higher price if the coin shoots up.
Proactive Market Maker (PMM) 
Typical decentralized exchanges use an Automated Money Maker or AMM system, which is quite remarkable. However, it has some flaws, and the Proactive Market Maker recognizes them and is designed as an improvement. 
The Proactive Market Maker allows traders nearly unrestricted control over their curve slope and aspect ratio. It also uses an oracle machine to control token prices, provide adequate liquidity and generate more funds. 
Growth Trajectory 
DODO hit an all-time low of $0.06 on 19 October 2020. Barely four months later, on 20 February 2021 precisely, it hit its all-time high of $8.51. DODO attained an impressive profit of 14,083% within that short period. 

Going by its current price of $1.56, if you had bought into the project at its all-time low barely a year ago, you would still be looking at gains of over 2,516%. 
DODO Price Prediction 
New and seasoned cryptocurrency holders need to apply caution when dealing with DODO price predictions.
They are rampant on the internet and are the reason numerous cryptocurrency traders buy DODO tokens. 

However, these DODO price predictions are not always correct.

As such, it will be best if you refrain from making your DODO purchasing decision solely on them. 
You may instead decide to understand why DODO exists extensively and what you possibly stand to gain from purchasing some of its tokens. 
Risk of Buying DODO 
The risk of buying DODO tokens can dire. After all, cryptocurrency tokens are a volatile asset, so the price can rise or fall on a whim. Essentially, you may buy some DODO tokens and experience a pricing crash.
Of course, you have to wait until the value increases again before selling the tokens if you hope to avoid losses. 

However, interestingly, there are practices you can incorporate to avoid scenarios like this.

For instance, it is always best to engage in comprehensive research before buying DODO.

You may also choose to diversify your portfolio, as it drastically reduces your risk of losing big.
Lastly, you may consider buying DODO tokens in small quantities and at regular but favorable intervals. 
Best DODO Wallets
As a cryptocurrency holder, you simply cannot settle with just any wallet for storing your coins. You have to factor in attributes like accessibility, user interface, and most importantly, security when choosing a storage option for your DODO tokens. 
We have simplified the process by narrowing down the top three storage options for DODO tokens. 
Trust Wallet - Overall Best Wallet for DODO Tokens 
Trust Wallet is a popular choice because it encourages convenience and versatility. You can easily purchase digital assets with your credit/debit card, exchange over hundreds of coins, and navigate the wallet with ease, even if you are new to cryptocurrency trading. 
Ledger Wallet - Best DODO Wallet for Security 
With Ledger Wallet, your DODO coins will always be secure. It is a hardware wallet that stores your private keys offline, meaning it will be near-impossible for hackers to steal them remotely. Aside from its stringent security systems, you also have a range of Ledger Wallet models to choose from. 
Coinomi Wallet - Best DODO Wallet for Convenience 
Coinomi has a large customer base because of its numerous benefits. For instance, you can conveniently trade and store over 1,000+ tokens. Furthermore, you can use your Coinomi Wallet on your smartphone device and also your desktop computer. Lastly, it is very safe and has a straightforward user interface. 
How to Buy DODO - Bottom Line 
Although a cursory glance at how to buy DODO may make it appear daunting, our quickfire and full guides have broken down the process for you. It is just as easy as downloading Trust Wallet, connecting it to Pancakeswap, and exchanging tokens swiftly!
Buy DODO Now via Pancakeswap

Always consider the risks involved when buying cryptocurrencies. Digital assets are highly speculative and volatile.
FAQs
How much is DODO?
In early August 2021, one DODO has a price of $1.56. However, this pricing point is hardly stable because it is a volatile asset.
Is DODO a good buy?
Determining if DODO is a good buy is a matter of perspective and trading strategies. Some may see it as a good buy, while others may not. However, it is a decision that you should take independently, and of course, with adequate research.
What is the minimum DODO tokens you can buy?
You can get a decimal value of DODO tokens. Essentially, you can buy less than one or a thousand as there are more than enough tokens in circulation.
What is the DODO all-time high?
DODO has an impressive all-time high of $8.51 - which it attained on 20 February 2021.
How do you buy DODO tokens using a debit card?
Head over to your App or Google Play Store to download Trust Wallet, set it up, and finish the KYC process. Next, buy a renowned cryptocurrency with your debit card (e.g. BNB), connect your Trust Wallet to Pancakeswap, and exchange that token for DODO.
How many DODO tokens are there?
There is a total supply of 1 billion DODO tokens. However, there are just over 110 million coins in circulation as of mid-2021.