How to Buy Covalent: Invest in CQT Tokens!
Covalent is a cryptocurrency project that seeks to unify data across blockchains. The protocol supports several top networks such as Ethereum, Binance Smart Chain (BSC), Polygon, Avalanche, and many more to achieve its objectives. With over a dozen blockchains already compatible with the project, the Covalent Network plans to expand even more in the future.
The primary purpose of Covalent is to provide a unified API that brings visibility and transparency to billions of blockchain data points. With the Covalent Network, you can pull up data from any supported blockchain without writing any code.
These impressive use cases impact the value of the protocol's token – CQT. In this guide, we will show you how to buy Covalent tokens in a convenient manner.
How to Buy Covalent: Quickfire Walkthrough to Buy CQT in Less Than 10 minutes
We will start with a quickfire walkthrough to show you how to buy Covalent in less than 10 minutes. Thus, if you are already familiar with the cryptocurrency market and are just looking to learn how to buy Covalent in particular, here's a concise step-by-step process for you.
Step 1: Download Trust Wallet:

Get the Trust Wallet on Google Play or App Store. After installing the app, set up your wallet by creating a PIN. After that, you'll receive a 12-word seed phrase from Trust. Once all this is done, you are set to move onto the next step.

Step 2: Search for Covalent:

On the Trust Wallet home page, there's a bar located at the top corner. That's the search bar through which you can look for Covalent.

Step 3: Add Cryptocurrency Asset to Your Wallet:

To buy Covalent, you have to fund your wallet. The first way to do this is to send cryptocurrencies from an external source into your Trust. Alternatively, you can use your credit/debit card to buy cryptocurrency directly on Trust  – after completing a quick KYC process.

Step 4: Connect to Pancakeswap:

After funding your wallet, you can now link to the Pancakeswap decentralized exchange (DEX). To do this, select 'DApps' and choose Pancakeswap from the menu and click on 'Connect.' 

Step 5: Buy Covalent:

 To purchase Covalent, you first have to click on 'Exchange.' Then, click on 'From' and pick the coin you deposited in your wallet. Afterward, go to 'To' and select Covalent. Click on 'Swap' to finalize the process. Wait a few minutes for your Covalent tokens to appear in your wallet.
That is all there is to it. You have just bought Covalent in under 10 minutes.
Always consider the risks involved when buying cryptocurrencies. Digital assets are highly speculative and volatile. 
How to Buy Covalent – Full Step-by-Step Walkthrough
The quickfire guide above will have given you a brief idea of how to buy Covalent. However, if you are a newbie, you may have further questions on how to complete the process.
Therefore, we have provided a more detailed guide for you. Here, we have explained each step in an extensive manner so that you can buy Covalent with ease. 
Step 1: Download Trust Wallet
You have to begin by getting Trust Wallet installed on your phone. You can download the wallet at no cost from the App or Google Play Store. Once you install the wallet on your phone, set it up by following the in-app prompts. 
In addition to this, Trust will give you a 12-word seed phrase. This passphrase allows you to gain entry to your wallet in case you change your phone or forget your PIN.
Step 2: Add Cryptocurrency Asset to Your Trust Wallet
Now, it is time to fund your wallet by adding cryptocurrency to it. There are two ways you can go about this; the first is to send cryptocurrency from a separate wallet, while the other is to buy digital tokens on Trust using your credit/debit card.
We will discuss both options below.
Send Cryptocurrency from an External Wallet
The first method is to send some cryptocurrency assets from another wallet into your Trust. Thus, if you own another wallet and have cryptocurrency in it, you can simply transfer some tokens to Trust.
Follow the below guide to get that done:
Open Trust and click on 'Receive.'

Pick the coin you want to receive.

Copy the wallet address provided.

Open the other wallet and paste the address

Enter the quantity of cryptocurrency you wish to send.
Confirm and wait a few minutes for your transferred funds to reflect in your Trust Wallet.
Buy Cryptocurrency Using Credit/Debit Card
The second way is to fund your wallet by buying cryptocurrency directly on Trust. You can buy some tokens with your credit/debit card.
Follow the steps below to get it done:
Open Trust Wallet and select 'Buy.'

Choose the cryptocurrency you want to buy. The currency should be renowned, such as Binance Coin (BNB).

Complete the Know Your Customer (KYC) verification procedure.

Enter the volume of coins you want to buy.
In most cases, you will find your newly purchased tokens in your Trust Wallet in under two minutes.
Step 3: How to Buy Covalent Through Pancakeswap
Now that you have funded your wallet, you can connect to Pancakeswap to buy Covalent. Link your Trust Wallet to Pancakeswap and follow the simple steps below to purchase your tokens on the DEX.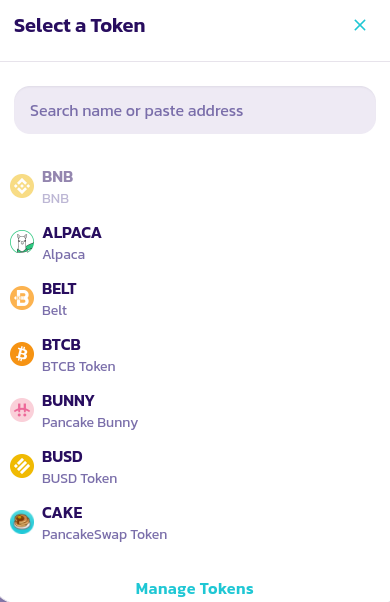 Click on 'DEX' and follow it up by selecting 'Swap.'

Click on the 'You Pay' tab and select the currency you want to pay with. Your choice must be the same as the coin in your wallet.

Provide the amount you want to pay and click on 'You Get.'

Here, you should choose Covalent. Then, you will see the swapping rate between Covalent and the asset you are exchanging for it.

Click on the 'Swap' icon.
Confirm the trade and wait a few minutes for your tokens to show in your wallet.
Step 4: How to Sell Covalent
The process of selling Covalent is as easy as buying it. There are two ways you can follow, and the first one is similar to the initial purchasing process. That is, you decide to sell your tokens by swapping them for other cryptocurrency assets. The other method is to sell Covalent for fiat money.
We will explain both ways below.
To sell Covalent by swapping for another asset, you can use Pancakeswap. Here, you need to follow the steps you took to buy the tokens. However, when it gets to the point when you click 'You Pay,' select Covalent. In the 'You Get' category, choose the digital asset of your choice.

To sell Covalent for fiat money, you will need to connect to a centralized platform like Binance. After sending your tokens to Binance, you need to verify your identity through a KYC process, where you'll provide some details and upload a valid ID like your passport. After that, you can sell your tokens back to fiat money and withdraw the funds to your bank account.
Where Can You Buy Covalent Online?
To buy Covalent online, you can explore different options, from centralized exchanges (CEX) to decentralized platforms like Pancakeswap. Being a Defi coin, it is preferable to use a DEX when buying Covalent. More so, with a DEX like Pancakeswap, you can buy Covalent without the need for an intermediary.
Pancakeswap – Buy Covalent Through a Decentralized Exchange

Pancakeswap has risen to challenge the dominance of the earliest DEX's in the cryptocurrency market. The platform uses the AMM model, which is the short form for Automated Market Maker. This means the exchange platform matches you directly against the system to buy Covalent, rather than pairing you with a seller.
The highlight of Pancakeswap is the numerous liquidity pools which, as at the time of writing in late August 2021, amount to billions of dollars in crypto assets. You can invest your funds into these pools to get Liquidity Provider (LP) tokens. The LP tokens are useful for accessing your funds whenever you so wish. Additionally, the DEX also has a simple user interface – making it easy to buy Covalent.
After buying Covalent tokens, you can stake some of them in the liquidity pools to gain additional profits over time. You can also enjoy the diversity that comes with Pancakeswap and exchange your tokens for other assets supported by the DEX. Apart from the liquidity pools, you can also earn on the platform from its yield farms, prediction pool, and lottery. 
Pancakeswap stands out in the market for its ease of use, low-fee structure, and swiftness. If you plan on buying Covalent on a DEX, this is most likely where you will get the best rates. You can get started by downloading Trust Wallet through which you can connect to Pancakeswap and buy Covalent. 
Pros:

Exchange digital currencies in a decentralized manner
No requirement to use a third party when buying and selling cryptocurrency
Supports a sizable number of digital tokens
Allows you to earn interest on your idle digital assets
Sufficient levels of liquidity – even on smaller tokens
Prediction and lottery games
Cons:
Might appear daunting at first glance for newbies
Does not support fiat payments directly
Ways to Buy Covalent
There are two main ways to buy Covalent; with cryptocurrency or through credit/debit cards. The major difference between the two methods is in the way you fund your wallet.
We will explain these differences below.
Buy Covalent With Cryptocurrency
One of the ways to buy Covalent is to fund your Trust by transferring cryptocurrency over from an external wallet. Then, once the coins reflect in your Trust wallet, you can connect to Pancakeswap to exchange them for Covalent tokens.
Buy Covalent With Credit/Debit Card
The other way to buy Covalent is to purchase some established cryptocurrency with your credit/debit card. Then, link your wallet to Pancakeswap and exchange the coins for Covalent. If you are to use this method, you will have to complete a KYC process - where you fill in some personal details and upload a valid ID such as your driver's license.
Should I Buy Covalent?
As you have learned how to buy Covalent, you should also ensure that the token is a good investment for you. To know if this is the case, you have to do thorough research. There are many variables to factor into your research - albeit, below, we have given you a headstart with some of the most important metrics to consider.
Future Possibilities
While the project that established Covalent is an impressive one, the team appears to be constantly working to ensure the success of the protocol. The major product that the team is working on at present is its progressive decentralization feature. This is aimed at making the Covalent Network user-owned and operated.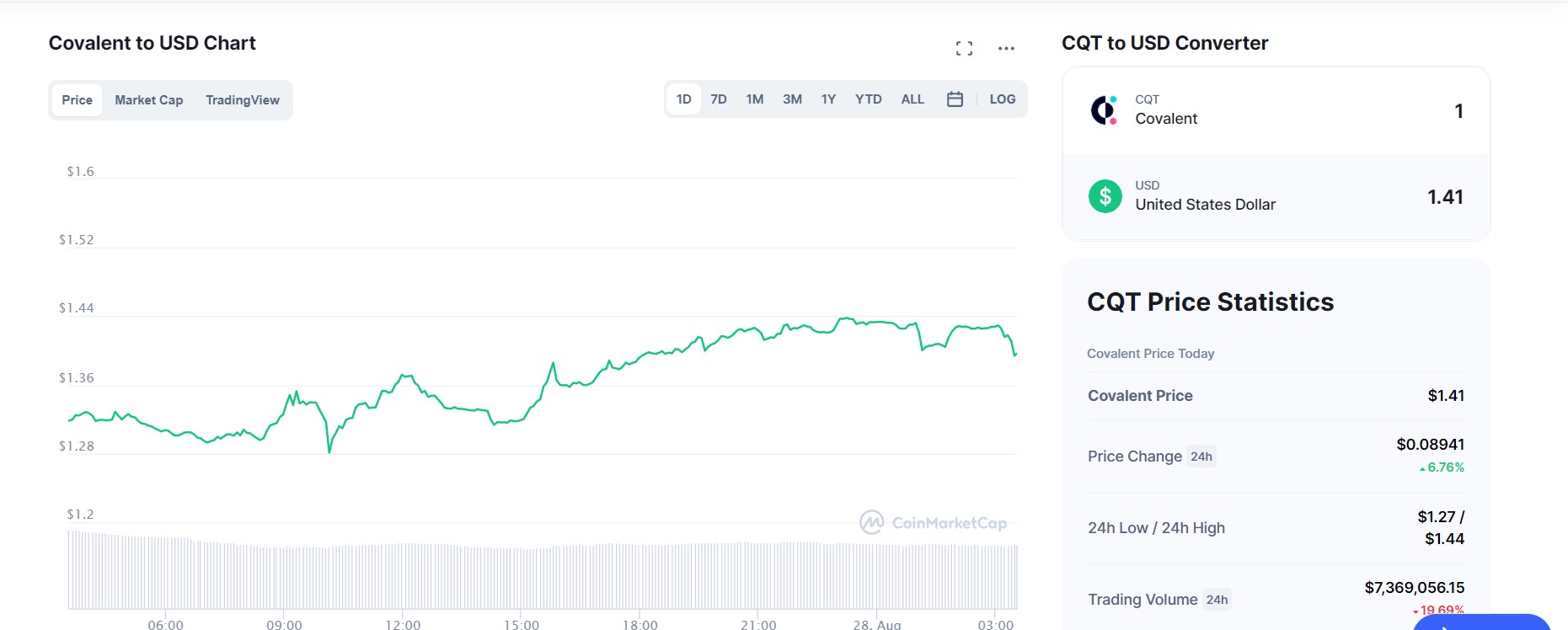 If this phase is successfully achieved, the governance of the Covalent protocol will be in the hands of investors who hold its native token, CQT. The implication of this is that the token could witness an increase in value. However, as exciting as that might sound, remember cryptocurrencies are unpredictable and there's no guarantee the market will move in the direction that you seek.
Multidimensional Use Cases
Covalent has many use cases, which may be a considerable advantage in the long run.
While many projects don't make it past their infancy stage due to stiff competition, Covalent has found a way to integrate itself into almost every market in the cryptocurrency space.

By aggregating data from various sources, the Covalent network has become the go-to protocol for various purposes.

Some of the purposes for which people use data from the platform include filing taxes, improving Defi protocols, creating NFTs, making informed decisions on DAOs, and many others.
With this wide array of use cases, the token might enjoy a value increase as time goes on. However, you should do your research beyond this point to have a more informed understanding of the project.
Experienced Project Team
The team behind the Covalent project is highly skilled and has substantial experience in the cryptocurrency space. The CEO and co-founder, Ganesh Swami, is a physicist who spent the earlier years of his career creating algorithms for cancer drugs.
The other co-founder and current CTO, Levi Aul, built one of the earliest Bitcoin exchanges in Canada and was a member of the team that made CouchDB at IBM.

The other team members are mainly data scientists and database engineers who are committed to improving blockchain technologies. With this solid technical team behind the network, the project already has a major element to succeed. 
Covalent Price Prediction
When it comes to cryptocurrencies, price predictions are not reliable. While predictions differ on how much Covalent will be worth in the next five to seven years, rarely is this backed by tangible data.
You must understand that whatever Covalent price prediction you see online is only based on speculation. Therefore, you have to conduct your own research adequately before investing in Covalent.
Risk of Buying Covalent
If you will be going ahead with buying Covalent, then you must understand the risks involved. Despite all its use cases, Covalent is still a digital token and is thus, susceptible to most risks inherent within the crypto asset space.
One of such risks is the high volatility that comes with cryptocurrencies like Covalent. 

To mitigate these risks, ensure you stay updated about the cryptocurrency market, and diversify your Covalent investment.

Furthermore, buy Covalent tokens in small amounts but at regular intervals, as this is an effective way to hedge your risks.
By taking these precautions, you can manage the risks involved in buying Covalent.
Best Covalent Wallet
By this point in our guide, you have learned how to buy Covalent. Another thing you should know is how to store your tokens safely. To keep your tokens secure, you need to get a good wallet that has the right attributes. Some of the qualities you should look out for in a wallet include security, compatibility, accessibility, utility, among others.
We have highlighted some of the best Covalent wallets in the market for you.  You can choose whichever suits you the best based on your own personal needs.
Trust Wallet: Overall Best Covalent Wallet
Trust wallet has become a familiar name for investors in the cryptocurrency market, and the reason for this is not far-fetched. Backed by Binance, Trust offers some of the best wallet features in the market and is free to download online. Generally credited for its ease of use, Trust takes our top spot as the best wallet to store Covalent tokens. 
Ledger Nano X: Best Covalent Wallet in Security
The Ledger brand has made a name for itself in the cryptocurrency space, and it's all thanks to the wallet's Nano S and X models. While both wallets are known for their state-of-the-art security, the Nano X tops the S model in terms of upgrades and features. This wallet offers impressive security for storing your Covalent tokens.
Metamask: Best Covalent in Accessibility
Metamask is one of the most preferred wallets in the cryptocurrency market, and there is a reason for that. The wallet is easy to use as it allows you to access your Covalent tokens through any device available. This web-based wallet is free and compatible with a lot of cryptocurrencies from different blockchains. 
How to Buy Covalent – Bottom Line
In conclusion, you can buy Covalent easily even if it is your first time. You just have to follow the processes we have outlined carefully.
First, start by downloading Trust Wallet. Then, fund your wallet by adding digital assets to it. Next, connect to Pancakeswap and finally, exchange the cryptocurrency in your Trust Wallet for Covalent tokens.
Buy Covalent Now via Pancakeswap

Always consider the risks involved when buying cryptocurrencies. Digital assets are highly speculative and volatile.
FAQs
How much is Covalent?
The price of Covalent will fluctuate across the day. However, as of late August 2021, Covalent is averaging a pricing level of between $1.20 and $1.40.
Is Covalent a good buy?
Only you can answer this question after conducting good research. Look through the growth trajectory of the coin and see if it fits your investment plan. If you believe Covalent is a good buy, you may consider getting some tokens.
What is the minimum Covalent tokens you can buy?
There is no minimum number of Covalent tokens you can buy when you go through a DEX like Pancakeswap. In fact, if you wish, you can buy a small fraction of one Covalent token.
What is the Covalent all-time high?
Covalent achieved an all-time high of $2.10 on 14 August 2021. The token's all-time low of $0.31 was recorded on 21 July, 2021.
How do you buy Covalent tokens using a debit card?
While learning how to buy Covalent, you will get to know about the two ways to go about it. One of them is to buy Covalent using a debit card. To buy Covalent utilizing this method, you must first purchase an established cryptocurrency on Trust using your Visa or MasterCard. After this, link your wallet to Pancakeswap and exchange the coin you bought for Covalent tokens.
How many Covalent tokens are there?
Covalent has a total supply of 1 billion tokens with slightly less than 50 million in circulation. This number constitutes only 5% of the total supply. The market capitalization is just over $70 million, as at the time of writing in late August 2021.