The TrueFi protocol burst into the cryptocurrency scene in November 2020 with its reward-based uncollateralized lending platform. The project aims to revolutionize how loans are given in the cryptocurrency market, quickly replacing the traditional lending system.
While other cryptocurrency protocols seem like better options than conventional loans, they are often over-collateralized. This over-collateralization often prevents investors from getting sufficient funding. The TrueFi protocol aims to solve this problem by providing innovative uncollateralized loans to investors and third-party borrowers.
Investors rate the creditworthiness of a prospective borrower and vote on whether such a person can get a loan from the platform or not. Every voting activity depends on how many TRU tokens you hold. If you intend to invest in this project, learn how to buy TrueFi below.
How to Buy TrueFi (TRU): Quickfire Walkthrough to Buy TrueFi (TRU) in Less Than 10 minutes.
To get started on how to buy TrueFi, here is a quickfire walkthrough. This guide will explain to you how to buy TrueFi in 10 minutes or less.
This will be handy if you are already familiar with cryptocurrency trading and are just looking for a quick walkthrough of investing in this Defi coin.
Step 1: Download Trust Wallet:

Start by getting Trust. This wallet is a leading option in the cryptocurrency marketplace and is highly suitable for TRU tokens. You can download Trust Wallet for free on your iOS or Android device.

Step 2: Search for TrueFi (TRU):

Now, you've downloaded and installed Trust Wallet – open the wallet and click on the search button located at the top right corner to look for TRU.

Step 3: Add Cryptocurrency Asset to your Wallet:

You need to add funds to your wallet to buy TRU. You can do this by sending established cryptocurrency from an external wallet to your newly-created Trust or buy some major coins directly with your debit card.

Step 4: Connect to Pancakeswap: After adding cryptocurrency to your wallet, connect to Pancakeswap to make the exchange. This is because, being a Defi coin, you cannot buy TrueFi directly on Trust Wallet. So, click on 'DApps' on Trust, followed by 'Connect' to get through to Pancakeswap.
Step 5: Buy TrueFi (TRU):

Once you are connected to Pancakeswap, the next thing is to purchase as many tokens as you desire. Click on 'Exchange' and follow by selecting 'From.' There, pick the coin you are exchanging for TrueFi. Then, click on 'To' and choose TrueFi from the options available. Finally, enter the number of tokens you want and click on 'Swap.'
That is it. You now have TrueFi tokens to call yours. You can sell or hold for a while, depending on your investment plans.
Always consider the risks involved when buying cryptocurrencies. Digital assets are highly speculative and volatile. 
How to Buy TrueFi (TRU) – Full Step-by-Step Walkthrough
After going through the quickfire guide, you may have an idea of how to buy TrueFi. However, that guide may not be clear enough to someone who has never traded cryptocurrency before. To help clarify whatever concerns or questions you may have, we have prepared a more detailed guide.
This complete walkthrough will take you through how to buy TrueFi every step of the way.
Step 1: Download Trust Wallet
You need to have a wallet to trade efficiently in the cryptocurrency market. Your digital wallet is even more critical as it will impact how you store your crypto investments. This fact is the reason you are advised to go for a reliable wallet such as Trust. Download the app on your iOS or Android device and install it.
Set it up by creating a PIN and generating a 12-word passphrase from the app. The passphrase will help you recover your wallet if you forget your PIN or lose your device.
Step 2: Add Cryptocurrency Asset to Your Trust Wallet
To buy TrueFi, you need the right digital currency in your wallet. Being an altcoin, you cannot buy TRU directly with fiat currency. Therefore, you need to add funds to your wallet by transferring some cryptocurrency from another storage or buying directly on Trust using your credit/debit card.
Send Cryptocurrency from an External Wallet
The first method is helpful for investors who are conversant with the market and already have other wallets with funds in them. You can transfer some established cryptocurrency from another wallet into your Trust and use it to buy TRU.
Here is a quick run-through of how to go about that.
Open Trust Wallet and click on 'Receive.'

Select the coin you want to receive and copy the address given.

Open the external wallet and paste the address you copied from Trust.

Enter the amount of cryptocurrency asset you want to transfer and confirm.
You will get your coins in your Trust Wallet within a few minutes.
Buy Cryptocurrency Using Credit/Debit Card
If you do not have another wallet or do not want to take the first method, you can buy cryptocurrency directly on Trust with Visa or MasterCard.
Here is a step-by-step guide to help you out.
Open Trust Wallet and click on 'Buy.'

From the options listed, choose the coin you want to buy. It is advised that you select a major coin such as BTC or ETH.

Go through the Know Your Customer (KYC) process. This is an identification process that helps the platform verify your identity to trade in fiat money.

Complete the KYC process by uploading a copy of your government-issued ID.

Enter the amount of cryptocurrency you want to purchase and confirm.
You will receive your coins in your Trust Wallet shortly afterward.
Step 3: How to Buy TrueFi (TRU) through Pancakeswap
Pancakeswap is one of the best DEX platforms in the market and is preferred by many investors because it is time and cost-effective. For these reasons and more, it is our go-to platform when it comes to crypto-to-crypto exchanges.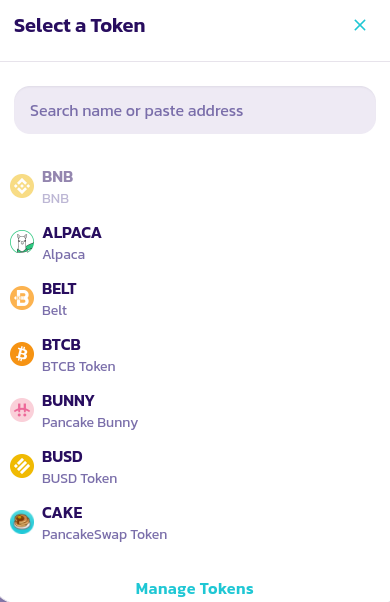 Learn how to buy TrueFi on Pancakeswap by following our simple guide.
Connect to Pancakeswap from Trust and click on 'DEX.'

Click on 'Swap' and follow with 'You Pay.'

Here, pick the cryptocurrency you want to pay with and the amount. The coin you choose must be the same as currently stored in your Trust Wallet.

Click on 'You Get' and select TrueFi from the options provided.

You will see the swapping rates between the established coin and TRU. Click on 'Swap' and confirm your trade.
You will see your TrueFi TOKENS reflect in your Trust Wallet shortly.
Step 4: How to Sell TrueFi (TRU)
After learning how to buy TrueFi, it's only right that you understand the ways to sell. Selling TRU is not so different from buying the token. Furthermore, you can do this in two ways. 
First, you can sell your TRU tokens by swapping for another cryptocurrency asset. Secondly, you can sell for fiat money.
We will explain both methods now.
For the first method, the process is similar to what you have learned in step 3 above. Connect to Pancakeswap and exchange the TrueFi tokens in your storage for another asset. The main thing to note is that you have to pick TRU in the 'You Pay' section and the cryptocurrency you want under the 'You Get' category.

The other way is to sell for fiat money. You cannot do this on Pancakeswap, therefore, you have to connect to a central exchange such as Binance. Once you open an account on Binance, send your TRU token into it and sell the asset for fiat currency. To do this, you will need to go through a KYC process.
Where Can You Buy TrueFi (TRU) Online?
Learning how to buy TrueFi also requires you to know where to purchase the token. The best platforms to get these tokens are online. Therefore, your choice is between buying from a centralized or decentralized exchange.
For Defi coins such as TRU, it is preferable to buy from a DEX such as Pancakeswap.
Pancakeswap – Buy TrueFi Through a Decentralized Exchange
Pancakeswap is one of the top platforms in the DEX sphere. The DEX is an automated market maker (AMM), a form of exchange whereby you are matched against the system and not other investors. This system allows you to trade without the pressure or limitation of engaging against another investor.
The primary feature of Pancakeswap that has contributed to its growing popularity is its liquidity pool, which is more diverse than that of other platforms. You can deposit various tokens into the liquidity pool to receive LP (Liquidity Providers) tokens. LP tokens are given to investors to represent their stakes in the pool.
You will use these LP tokens to reclaim your investment when you wish to recover your funds. These tokens also provide other benefits to holders. One of the most important is that they allow you to enjoy a discount on trading fees when using Pancakeswap. These reduced fees, in addition to profits from the liquidity pool, can benefit your potential earnings greatly.
Pancakeswap is dedicated to making investors earn as much as possible from their cryptocurrency holdings – both actively and passively. When you use Pancakeswap, you can also buy the native governance token of the platform, which allows you to contribute to how the protocol is developed.
Ways to Buy TrueFi (TRU)
If you want to know how to buy TrueFi, there are two ways in which you can go about it. You can either buy TRU with another cryptocurrency or with a credit/debit card.
Subsequently, below we will explain how to buy TRU using each of the two methods.
Buy TrueFi (TRU) with Cryptocurrency
To buy TrueFi using cryptocurrency, you have to fund your wallet with a major coin, either by transferring some from external storage or buying directly on Trust. Then, after getting a major cryptocurrency in your wallet (e.g. Bitcoin), connect to Pancakeswap and exchange the established coin for TRU tokens.
Buy TrueFi (TRU) with Credit/Debit Card
You can buy TrueFi with a credit/debit card but not directly. You have to start by using your card to buy a major cryptocurrency. Then, connect your wallet to an exchange like Pancakeswap. There, swap the established cryptocurrency for TRU.
Should I Buy TrueFi (TRU)?
When learning how to buy TrueFi, you should also know if it is a suitable asset for you to invest in at that moment. So, before you buy TRU, take some time to research factors that play roles in how the token will fare.
We have explained some of the most notable research points below, but you should also look to learn more independently.
Establishing Project
The project that establishes a cryptocurrency is always instrumental to the success of the digital asset in the long run. This is why you need to know the project behind a cryptocurrency before buying it. The TrueFi protocol is a reward-based uncollateralized lending platform that allows investors to determine the credibility of borrowers.
Since voting rights are based on how many TrueFi tokens you hold, you have to keep enough to impact decisions considerably. The worth of tokens you own will also determine your creditworthiness if you want to take out a loan or stand as a guarantor for another creditor.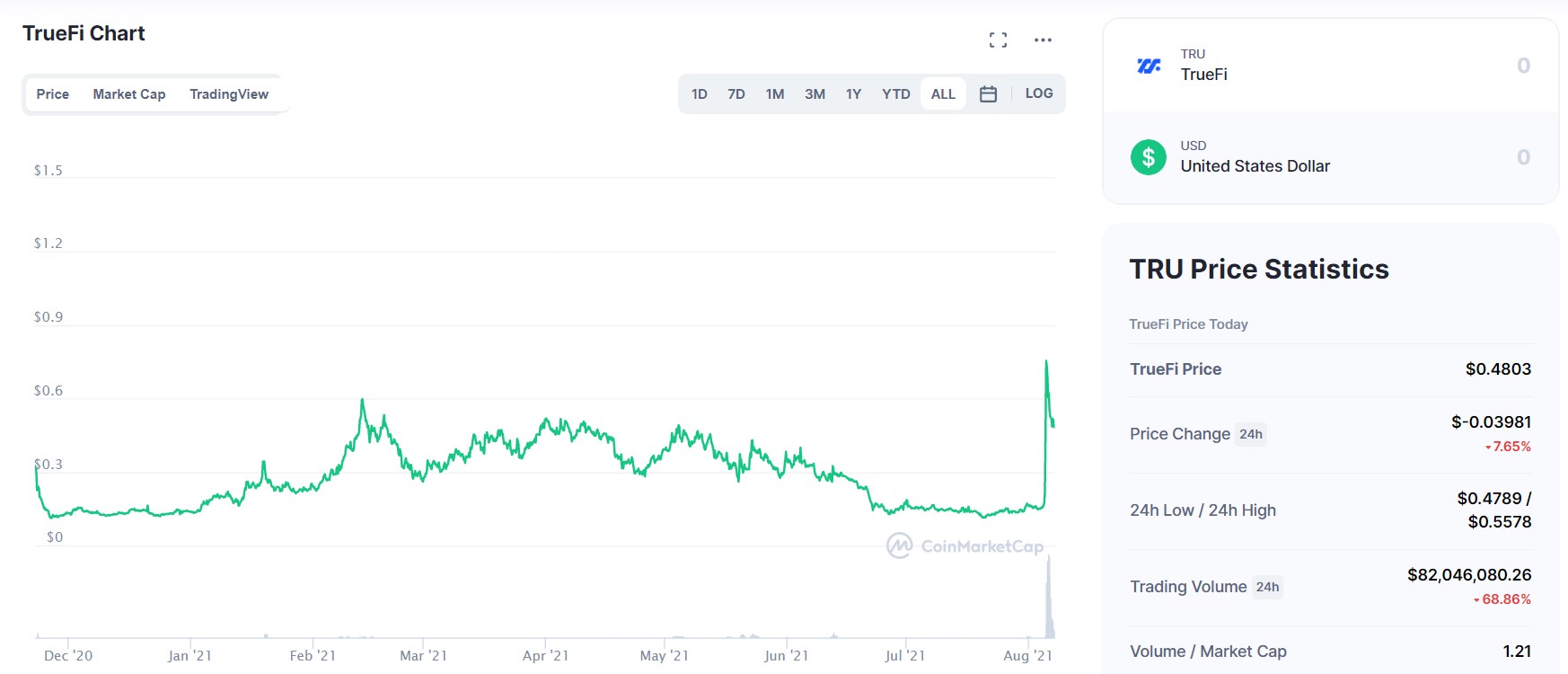 All of these cumulate to have a certain effect. The more the TrueFi project makes uncollateralized loans available, the higher the rate at which investors will flock to the platform. This development could invariably increase the token's value and make it a potentially notable investment in the long term.
Growth Trajectory
TRU is still a new token as it has spent less than a year in the market – as at the time of writing in early August 2021.
For this reason, it is still difficult to predict how the coin will fare in the coming years.

However, some commentators have predicted different trends for the token's growth.

While some agree it will grow sizably over time, others hold differing opinions.

For people in the former category, TrueFi has what it takes to succeed, considering the project behind it.
Irrespective of the two sides, none has sufficient data to back its position, so you should resort to personal research.
External Support
TrueFi is backed by some notable names in the cryptocurrency market, including Andreessen Horowitz, Alameda, BlockTower. Through the support of these financial firms, the TRU team raised over $12.5 million in funding. This development has contributed to the token by spurring an increase of over 400% in August 2021 alone.

In a chain of reactions, it is expected that this funding will help the team move closer to their goal of uncollateralized loans. More investors could flock to the platform to gain access to loans that do not require excessive collateral.
In return, investors will need to improve their voting powers by acquiring more TrueFi tokens, which has the possibility of increasing the coin's value.
TrueFi (TRU) Price Prediction
Commentators are currently divided on the price predictions for TRU. The token, having spent only a few months in the market, is on a steady rise. Several 2020 TrueFi price predictions believe the token will surpass $2 by 2025.
Although predictions like this sound tempting, do not be tricked into buying TRU tokens based on third-party viewpoints.
Risks of Buying TrueFi (TRU)
There are three significant risks associated with TRU, and we will discuss each independently.
The first risk is a general one that comes with every cryptocurrency and financial investment. The crypto market is constantly subjected to risks of different degrees, depending on the asset in question.

However, the general rule is that the higher the reward, the greater the risk. The implication is that assets like TrueFi, which have promises of huge returns, also carry equally big risks.

The second notable risk associated with the TrueFi token is common to Defi coins. These cryptocurrencies are not always as viable in the long run when compared to major coins and thus – can quickly die off. Also, with the eruption of altcoins in the cryptocurrency market within the past couple of years, the competition is more challenging, with each team trying to push their project to success by all means.

The consequence is that you may be led to invest in an unprofitable venture with big empty promises.
Finally, the success of TrueFi is highly dependent on how the team's objectives fare. If their future projects fail to achieve set goals, the token price will likely suffer, and you will incur huge losses. 
To mitigate these risks and any other that may pop up, you have to research the token and whether it will be a suitable addition to your portfolio. You should also diversify into other assets and stay abreast of TrueFi news in the market.
Best TrueFi (TRU) Wallet
On any tutorial about buying TrueFi, you cannot avoid talking about the best wallets. You need a good wallet to purchase and store your TRU tokens. What constitutes a good wallet includes qualities such as compatibility, accessibility, security, and general utility.
There are several options in the market, but we have listed three of the best wallets where you can store your TRU tokens. 
Take a look at them below:
Trust Wallet: Overall Best TrueFi (TRU) Wallet
Trust Wallet will always stand out as the best wallet to store Defi coins like TrueFi.
This wallet has gained a reputation for being user-friendly, both in utility and cost.

Using Trust Wallet offers you many opportunities from a simple interface to cost-effective transactions, compatibility with numerous exchanges, support for diverse cryptocurrencies, and many other benefits.

When buying or storing TrueFi, Trust Wallet is the best option for you.
It is straightforward to use as a beginner and makes your transaction easier even if you are a professional.
You can download Trust Wallet on iOS and Android devices for free.
MyEtherWallet: Best TrueFi (TRU) Wallet in Convenience
If you want to have unfettered access to your wallet, MyEtherWallet is one of the best options for you. It is a web-based wallet, which means that you can open the storage from any device with an internet connection.
For this reason, it scores low in safety but is very easy to use if you only log into your wallet from your web browser.

MyEtherWallet also allows you to store diverse types of cryptocurrencies – including all ERC-20 tokens.
What makes it more enticing for beginners is that it is free to use.
Ledger: Best TrueFi (TRU) Wallet in Security
We would argue that Ledger is the best TrueFi wallet in terms of security. This belief stems from the quality of all the products of the brand. Any of the wallets made by Ledger will keep your cryptocurrency assets safe offline, but the Nano S and X models are the best options in the market.
You can get any of these two hardware wallets at affordable prices and never have to worry about your TrueFi tokens being stolen by hackers. 
How to Buy TrueFi (TRU) – Bottom Line
Having gone through both the quickfire guide and the complete walkthrough, you will realize just how easy it is to buy TrueFi. You have to start by downloading Trust Wallet and add some digital tokens. Then, you can connect to Pancakeswap to exchange your tokens for TrueFi. It really is that simple!
Buy TrueFi Now via Pancakeswap

Always consider the risks involved when buying cryptocurrencies. Digital assets are highly speculative and volatile.
FAQs
How much is TrueFi?
The price of TrueFi is not stable and thus - hovers between $0.40 and $0.90 as of early August 2021. This price range is the best the coin has achieved since launch.
Is TrueFi a good buy?
TrueFi is still a relatively new token, so there are numerous predictions around it. However, whether or not it's a good buy is a personal decision which you should answer in the wider scheme of your investment goals.
What is the minimum TrueFi tokens you can buy?
There is no minimum amount of TrueFi tokens for you to buy. However, owning large amounts of TRU tokens increases your voting power on the platform. You also get access to a more significant amount of credits if you want to take out a loan.
What is the TrueFi all-time high?
TrueFi achieved an all-time high on 5 August 2021, when its price hit $0.93. Its all-time low had happened months before, precisely 26 November 2020, when the token traded at $0.10.
How do you buy TrueFi tokens using a debit card?
You cannot buy TrueFi directly with a debit card. Instead, you first have to purchase an established coin such as BTC or ETH with your card. Then, you can go to Pancakeswap and exchange the major coin for TRU tokens.
How many TrueFi tokens are there?
There are over 1.45 billion TrueFi tokens in maximum supply. About 10% of this figure, which translates to 140 million tokens, is in circulation. Furthermore, the market capitalization of the project as of early August 2021 stands at over $73 million.