Fantom Review: What is FTM and Why Should You Invest in Fantom
Interestingly, the Ethereum blockchain has some design limitations that are becoming so obvious as more members join the community. It is now more expensive to interact with Ethereum as the traffic increases every day.
The Fantom (FTM) is a promising project aimed at creating a (smart contract) platform. This platform will serve as the (nervous system) for (smart) cities. Fantom's design is to create an enabling environment that will help Ethereum improve.
The project uses advanced DAG (Directed Acyclic Graph) to provide continuous scalability at minimal transaction cost.
Notably, the Fantom review discusses those Fantom features that make it an (Ethereum helper). It also contains other topics that give the reader relevant information about the project.
The Fantom Team
Dr. Ahn Byung IK, a computer scientist from South Korea, is the founder of Fantom. He holds a Ph.D.  in computer science and is currently the Leader of the (Korea Food Technical) Association.
Dr. Ahn is a joint author of Fortune Magazine. Initially, he founded the SikSin food-tech platform. SikSin is a leading restaurant rating and recommendation app in Korea.
However, Dr. Ahn is currently not associated with Fantom anymore. He did not even mention anything about the project in his LinkedIn profile.
Michael Kong took over the project as the Chief Executive Officer (CEO). He has advanced experience in the blockchain space, working as a smart contract developer for several years.
Before joining Fantom, he worked as the  CTO (Chief Technology Officer) for the (blockchain incubator Block8). He is among the first developer to build solidity decompilers and detectors for identifying smart contract vulnerabilities.
Also, Andre Cronje is a notable member of the Fantom team. He is a DeFi architect known as the Yearn Finance developer.
Fantom's project team comprises researchers, engineers, specialist engineers, scientists, entrepreneurs, and designers, as seen on its official web page. They have reasonable experience in (full-stack) blockchain development.
Their efforts are directed towards developing a unique smart contract platform that supports security,  decentralization, and scalability. Thus employees can work from different parts of the world. This shows a good example of a (distributed) platform.
What Is Fantom (FTM)?
Fantom is a 4th generation blockchain. A DAG (directed acyclic graph) platform for smart cities. It provides developers with DeFi services using its bespoke consensus algorithm. Unlike Ethereum blockchain, it provides both users and developers with current upgrades on usability and functionality.
There is a foundation that oversees Fantom's product offering. This foundation came into existence in 2018. Fantom's Mainnet and Opera were launched in 2019 December.
The network supports different features like P2P (peer-to-peer) lending services and staking. With this, it tends to absorb some of Ethereum's share in the DeFi market in a few months.
In addition, Fantom, with its native token, aims at solving the challenges related to the smart contract platforms. This challenge is the transaction speed which the Fantom developer claimed to have reduced to less than two seconds.
They hope to be the backbone of the IT infrastructure for upcoming smart cities. Through the handling of 300 transactions in a second and reaching out to many service providers. The project believes it is the solution to securely store numerous volumes of data.
It will achieve this goal by being easily accessible for Dapp adoption and a data-driven smart contract for stakeholders.
The team foresees the platform to be useful across different sectors like smart home systems, healthcare, public utilities, traffic management, environmental sustainability projects, and education.
How does Fantom (FTM) Work?
Fanton is a DPoS blockchain (Delegated Proof-of-Stake) with multiple layers. The layers are Opera Core Layer, Opera Ware Layer, and Application Layer. These layers perform a specific operation that comprises the total operability of Fantom.
Here are the individual operations of each layer:
This is the first layer as well as the core in the Lachesis protocol. Its function is to maintain consensus through the nodes. It confirms transactions by using DAG technology. This enables the node to process the transactions metachronously.
In Fantom's network, each transaction saves on every node after its processing. The operations are similar to the normal transaction saving in a blockchain. However, with the DAG technology, there's no need to save the data on every node.
Through the use of the Lachesis protocol, Fantom can maintain validity by saving its transaction on Witness and validating nodes. The validating operation is based on the DPoS consensus protocol.
This is the middle layer in the protocol that sees the execution of functions on the network. Also, it issues rewards and payments as well as writes 'Story Data' for the network.
Through Story Data, the network can track all its past transactions. This is a pertinent feature used in situations where there's a need for infinite data access in a network. A typical example is in the healthcare field or supply-chain management.
This layer keeps the public APIs that enable developers to interface their dApps. The APIs ensure security and reliability as the network connects for transactions in dApps.
Fantom (FTM) Advanced Smart Contracts
Besides its outstanding features, Fantom inculcates some of Ethereum's best smart contracts in its network. This empowers Fantom smart contracts to perform some functions even beyond what is obtainable in Ethereum.
The smart contracts are used for generating evidence base on behaviors and monitoring transactions' accuracy.
Also, they are employed in executing pre-programmed instructions. Unlike in Ethereum, Fantom has the Story Data operability. This ensures an indefinite tracking of past transactions on the network.
Features of Fantom Protocol
Fantom (FTM) Consensus
Fantom uses a "multi-layer Deleegatede Proof-of-Stake" mechanism based on Directed Acrylic Graph (DAG). Due to this mechanism, Fantom can provide consensus to application snot minding its programming language. Fantom also uses an aBFT (asynchronous byzantine fault tolerance) consensus algorithm.
This algorithm enables it to facilitate transactions faster than many other protocols, plus linear scalability. Apart from scalability and fast transaction, Fantom boosts security and decentralization in the crypto space.
Validator Node
The components of the network are solely in the care of Validator nodes. Any user of the protocol can be a part of this group.
All a user need is to have 1 million FTM locked in the FTM wallet. As a Validator node, you don't have to check what other nodes are doing on Fantom. All you will do is to verify every new transaction from Lamport (a timestamped point).
Witness Node
This node validates transactions on Fantom through the Validator nodes' data. After validating the transaction, it goes into the blockchain.
Fantom Governance
Fantom uses its token to empower users to participate in the network. They could raise proposals concerning network upgrades, fees, system parameters, network structures, etc. All it requires is to have the FTM token. With enough tokens in your hands, you can increase your voting power.
Fantom Foundation
Fantom has a Foundation with headquarters in Seoul. The idea behind the network is to make a profit. It launched in 2018, and according to the company documents, Michael Kong is Fantom's  CEO.
After updating the network with Go-Opera, fantom has been growing. As of May 1, 2021, Fantom has handled 3 million transactions. By  May 13, Fantom has completed more than 10 million.
 What problems Does Fantom (FTM) Solve?
Fantom has the primary responsibility of creating a scalable and secure decentralized network.
More scalability in transactions
Through its operations, fantom is meant to handle some of the problems that developers and users normally encounter on Ethereum. The launching of  Fantom offers almost an indefinite scalability in transactions.
Reduction of Energy consumption
Before the development of Fantom, the early cryptocurrencies (Bitcoin and Ethereum) operate with the Proof-of-Work consensus mechanism. This mechanism consumes a lot of energy and poses a threat to the environment as well.
However, the arrival of Fantom puts a stop to the use of the energy-sapping PoW consensus mechanism. Validating operations with Fantom takes less energy through the use of the Lachesis consensus mechanism. This alternative makes Fantom more environmentally friendly and a better sustainable network.
The advert of Fantom brings a drastic cut in the crypto market fee structure on transactions. The cost of sending transactions through Fantom is almost negligible compared to using Ethereum.
This near-zero cost is a great relief to users. Developers also leverage the low fee strategy of Fantom to give low-cost services.
Fantom (FTM) Benefits
Fantom users have a lot of benefits to enjoy when they identify with the Fantom network.
E.V.M Compatibility: The fantom with its unique features claims to be ideal for Defi, payments, enterprise applications, and management of any supply chain.  Developers do not need to learn any new language in programming, and it is totally (Ethereum virtual machine) EVM-compatible.
Ethereum Virtual Machine (EVM) is a virtual machine that allows the execution of transaction codes exactly as planned. To maintain a consensus through the blockchain, all Ethereum node runs on the (EVM).
Flexibility: Fantom platform is flexible with the help of its efficiency and accessibility. With this feature, it can be used in many industries. Recently it is used in sectors like traffic management, resource management, smart home systems, health care, and education, among others.
Scalable: The platform has a high-speed performance. It offers transactions almost instantaneously. Members TTF (time to finality) of around a second. As the project matures with time, developers have already set a goal of handing 300,000 transactions in a second (t.p.s).
This goal will give Fantom an edge over other top payment processing networks like PayPal and VISA. VISA speed test, for instance, puts made the network poses a maximum transaction speed of 36,000 (t.p.s). Fantom's target is to provide ten times this speed.
Fantom (FTM) Advanced Smart Contracts
Fantom adds more features to the best features of Ethereum's 'smart contracts' it adopted. For instance, Fantom 'smart contracts' can efficiently carry out instructions initially programmed to monitor transactions for accuracy and generate behavior-based evidence.
Fantom DeFi
The Fantom team uses the advantage of its flexibility in making Fantom Defi very efficient. In other words, the efficiency of the Fantom DeFi serves as proof of its flexibility.
The project claims to offer all DeFi features in-suite for its users. Users through Fantom's EVM-compatible blockchain can trade, borrow, lend and mint digital assets straight from their wallets. All these are given at no cost.
DAG-based Lachesis consensus protocol is used to design the network's Opera Mainnet. This Mainnet supports smart contracts with EVM compatibility and allow users to make smart contract using the network. This makes DeFi ideal on the Fantom network.
Fantom is currently supporting the following DeFi applications:
fTrade – It enables the Trading of Fantom-based assets without the need to exit the wallet. This makes it a fully decentralized and non-custodial AMM exchange.
fMint – Information of several synthetic assets can be validated (mint) on Fantom. These synthetic assets include; national currencies, cryptocurrencies, and commodities.
Liquid staking – Staked (FTM) tokens serve as 'collateral' for Defi apps. All FTM commissions are liquid(can be converted to other assets) within the 'Fantom ecosystem.'
fLend – one can borrow and give out digital assets to earn interest through trading and not lose exposure to FTM.
The DAG technology adopted by Fantom is stronger than many other DeFi platforms.
What Makes Fantom Unique?
Uses Lachesis Mechanism: This is a (scratch-built) consensus mechanism that facilitates Defi and other similar services based on Smart Contract ideology.
The mechanism aims at finishing a transaction in 2 seconds and a higher transaction capacity. This is alongside improved security over other (traditional algorithm-based) platforms.
Compatibility: The project, from its mission, is compatible with almost all transaction platforms in the world. It matches Ethereum tokens, offering easy accessibility to developers with the vision of launching decentralized solutions.
It has a unique token, FTM: It uses its native PoS  (FTM) token, a medium of transaction exchange. The token allows for activities like staking and fee collection and user rewards to take place.
Fantom raised close to $40 million for fund development through token sales in 2018.
Fantom Token (FTM)
This is the native token of the Fantom network. It serves as a DeFi, primary utility, and governance value of the system.
It secures the system through staking for rewards, payment of fees, and governance. One needs to own FTM to be eligible to participate in community governance.
You can Use Fantom for the following purposes;
To secure the network: This is the main function of the (FTM) token on the Fantom network. It does this through a system known as Proof-of-Stake. The validator nodes must hold a min of 3,175,000 FTM to participate while stakers are to lock up their token.
As a reward for this service, the stakers and nodes are given (epoch) reward fees. The network is environmentally friendly and, as a DeFi, prevents centralization.
Payments: The token is suitable for receiving and sending payments. The process is enhanced by the network's efficiency, low cost, and fast finality. Money transfers on Fantom take like a second, and the cost is almost zero.
Network Fees: FTM serves as network fees. Users pay like fees for deploying 'smart contracts' and that of creating new networks. It is also the token that users adopt to pay for transaction fees.
This fee serves as a minimum barrier for hampers, spammers, and ledger corruption with unuseful information. Though Fantom fees are cheap, it is expensive enough to discourage malicious actors from attacking the network.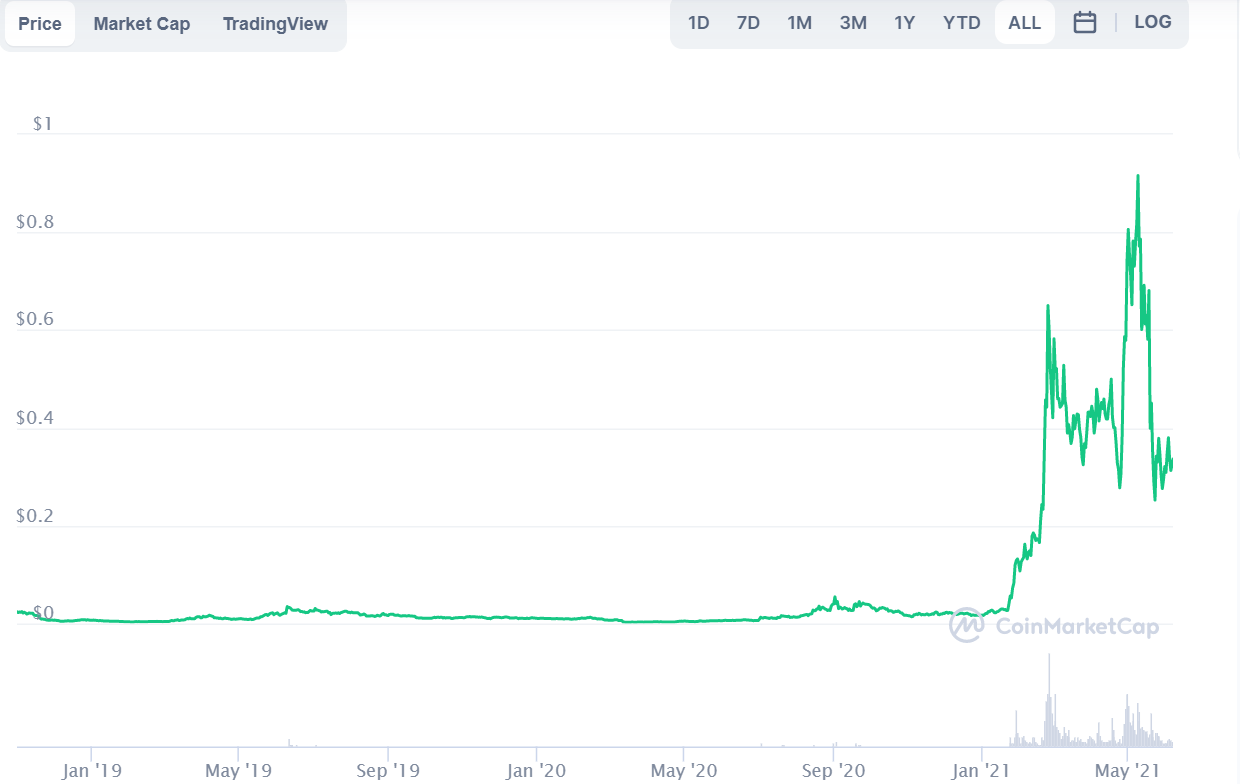 On-chain Governance: Fanton is fully a leaderless and permissionless (decentralized) ecosystem. Decisions concerning the network take place through on-chain Governance. With this, holders of FTM can propose as well as vote for adjustments and improvements.
How to Buy FTM
There are some places you can buy Fantom token. Firstly, you can select Binance, while the second place is Gate.io.
Binance is suitable for crypto users in UK, Australia, Singapore, and Canada. If you're residing in the USA, Binance won't work for you due to legal issues. However, you can buy FTM from Gate.io if you're residing in the United States.
Fantom Wallet
The Fantom wallet is a PWA (progressive web application) used to store Fantom token(FTM) and even other tokens in its ecosystem. It is referred to as the (native) wallet for (FTM) Opera Mainnet.
As a PWA wallet, it can be updated easily on all platforms through a single (codebase) without the third party's approval. It is perfect for the consistent integration of new features in a system.
The Fantom wallet serves as the following;
Directly install the (PWA) wallet
Create a personalized wallet
Load a wallet that is already existing
Receive and send FTM tokens
Staking, claiming, and Unstaking FTM tokens
Using user's address book
Vote on proposals (https://fantom.foundation/how-to-use-fantom-wallet/)
Fantom Review Conclusion
Fantom brings a lot of solutions to the crypto community. It offers services at lower transaction fees. Furthermore, the network reduces the environmental hazards that other cryptos cause due to overconsumption of power.
Fantom supports dApps and smart contracts. This support has brought in more benefits to investors, and that's why the network is popular. According to speculations, Fantom may soon be in charge of Korean smart cities.
Developers only need to ensure efficiency in transactions and continuous operational support for their users.
Thus, it will be easy to dominate the market in South Korea. Consequently, after reading this Fantom review, you now understand the internal working of the Fantom network.