How to Buy Terra: Invest in LUNA Tokens Today
Terra is a decentralized finance (Defi) protocol. It leverages stablecoins, smart contracts, and oracle systems to provide financial assets and services for users.
Like other Defi projects, it has its own native cryptocurrency – Terra token, which was introduced in 2019. At the time of writing, Terra is one of the top 50 crypto tokens in terms of market capitalization and thus – it has garnered a notable reputation in the Defi industry. 
This guide will show you how to buy Terra in a low-cost and secure manner.
How to Buy Terra – Quickfire Walkthrough to buy Terra Tokens in Less Than 10 Minutes
Terra token is a top-ranking Defi coin with a growing community behind it. If you are planning to buy Terra, Pancakeswap is the best way to do so. It is a decentralized exchange that eliminates the need for an intermediary when buying tokens.
You can get all the Terra tokens you need in ten minutes by following the steps below:
Step 1: Download Trust Wallet

: This is the most suitable wallet for Pankcakeswap exchange. You can download the app for iOS and Android devices.

Step 2: Search for Terra

: Now that you have the Trust Wallet, input Terra in the search box located in the top right corner to find the coin.

Step 3: Add Crypto Assets to Your Wallet

: You cannot buy Terra without funding your wallet. So, you need to deposit some crypto by either buying with your credit/debit card or sending tokens from an external wallet.

Step 4: Connect to Pancakeswap

: This can be done through your Trust Wallet. Simply click 'DApps' in the lower part of the app and choose Pancakeswap. Then click 'Connect.' 

Step 5: Buy Terra

: Now that you have connected your wallet, it is time to buy Terra. Select 'Exchange', go to the drop-down box under the 'From' tab and choose the token you want to swap for Terra. On the other side is the 'To' tab, where you will pick Terra in the drop-down box. Enter the number of Terra tokens you want and click 'Swap' to confirm the trade.
The Terra tokens will appear in your wallet within seconds and remain there until you move them out. The Trust Wallet app is not only good for buying Terra; you can also use it to sell once you're ready. As we explain later, it's just a case of heading back to Pancakeswap to complete the sale!
Always consider the risks involved when buying cryptocurrencies. Digital assets are highly speculative and volatile. 
How to Buy Terra – Full Step-By-Step Walkthrough
After reading the quickfire guide above, you already have an idea of how to buy Terra. For crypto veterans, that might be enough. But, if this is your first time buying Defi coins or using a DEX, you may need a more comprehensive guide. 
Buying a Defi coin and navigating a decentralized exchange can be quite complex, so the detailed walkthrough below simplifies how to buy Terra.
Step 1: Download Trust Wallet
Pancakeswap is a decentralized application, and like all DApps, you need a wallet to use it. Trust Wallet is the most suitable option when it comes to connecting and interacting with the DEX. Trust Wallet is not only backed by Binance but also easy to use for all. 
Downloading the Trust Wallet is very easy. The app is available for Android and Apple phones – which gives everyone the chance to download it. Simply head to the Appstore or Google Playstore as the case may be. After installing it, you need to open the app and create your login details.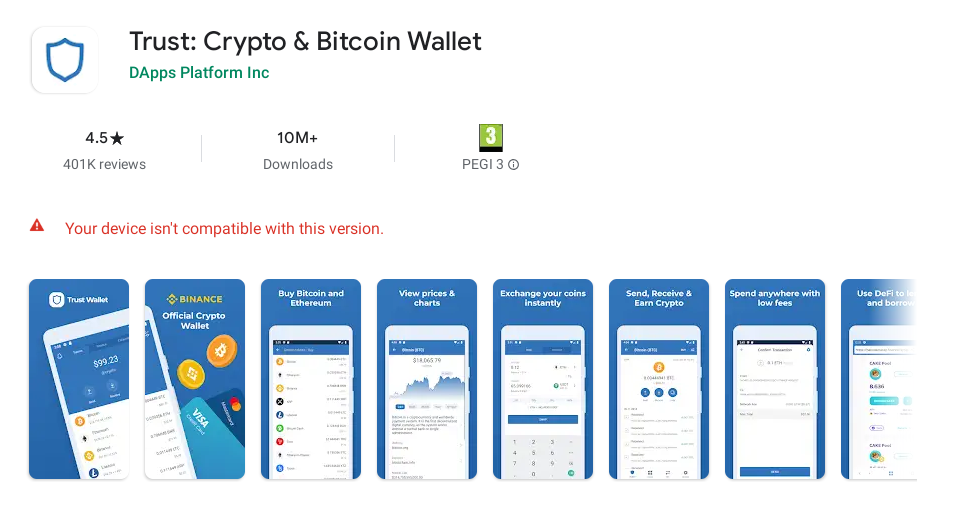 Generally, you need to create a strong and memorable PIN. Then you will get a 12-word passphrase for recovering your account. The passphrase is relevant for when you lose your device or forget the PIN. So, it's advisable to write it down and keep it in a safe place.
Always consider the risks involved when buying cryptocurrencies. Digital assets are highly speculative and volatile.
Step 2: Add Crypto Assets to your Trust Wallet
Your Trust Wallet is going to be a brand new one which means it will be empty. So you need to add crypto to it before you can buy Terra. Adding crypto assets to your wallet is simple, and you can do it using two options.
Send Crypto from an External Wallet
The easiest way to fund your new wallet is to transfer crypto into it from an external source. But, you can only do this if you already have a wallet with crypto in it. Transfer crypto into your Trust Wallet with the following steps.
Select "Receive" in your Trust Wallet and pick the crypto token you want to transfer in

A unique wallet address will be displayed for the token

Copy the address and open the external wallet where you have your tokens stored.

In the box for wallet address, paste the unique address copied from Trust Wallet. Then input the amount of crypto you are sending and confirm the transaction
You will see the crypto funds in your Trust wallet within minutes.
Buy Cryptocurrencies using your Credit/Debit Card 
This is the option for those who don't have any crypto holdings in another wallet. If you are new to crypto-investing, this might be the case.
The great thing about Trust Wallet is that you can use your credit or debit card to buy crypto directly through it.  You can do that by following the steps below.
Select 'Buy' on the top part of your Trust Wallet app

All the tokens you can buy with your card will appear

You just have to select what you want. While you can choose any coin, it is advisable to go for Binance Coin (BNB)

You will also go through a Know Your Customer (KYC) process. This is needed to confirm your identity since you are buying with fiat currency

The KYC process generally includes inputting your personal details and uploading an image of a government-issued ID

After completing the KYC process, input your card information, the amount of crypto you want to buy, and confirm
Within seconds, the crypto will show in your wallet.
Step 3: How to Buy Terra through Pancakeswap
After you have funded your wallet, you are now ready to buy Terra from Pancakeswap. First, connect your Trust Wallet to Pancakeswap, as previously explained. Then, buy Terra by directly swapping it with the crypto you have within your Trust Wallet.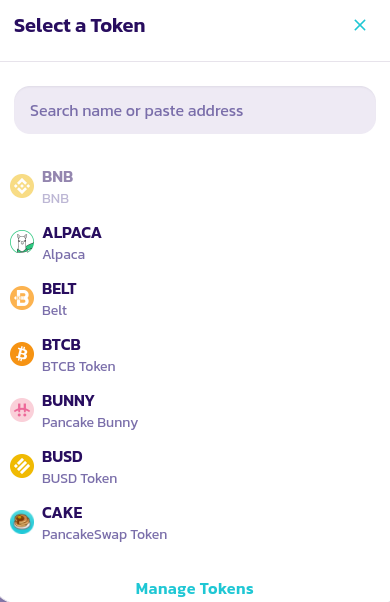 Here is the process.
Select 'DEX' on the Pancakeswap page and click the 'Swap' tab

The 'You Pay' tab will be displayed and here, choose the token you are paying with and the amount 

This must be the crypto you bought with your card or transferred from an external wallet in Step 2

Next, go to the 'You Get' tab and from the tokens on the drop-down list – pick Terra

The system will show you the amount of Terra the swapping equates.

The next step is to select 'Swap' and complete the transaction
Check your Trust Wallet to find the Terra you just bought
Step 4: How to Sell Terra
Everyone has a reason for buying crypto tokens. If you are investing, your goal will be to make a profit. Since you need to sell or trade your crypto to realize its value, it's important to understand the process accordingly. 
There are different ways to sell your Terra tokens. Your strategy will generally depend on your goal.
If you want to swap Terra with another token, you can do so on Pancakeswap. You simply need to swap it for another crypto using the same process explained in Step 3
The only thing you will do differently here is that Terra will be the coin you choose in the 'You Pay' section

But if you want to cash out on your Terra tokens for fiat money, you will have to sell them elsewhere.. You can do this using a third-party cryptocurrency exchange. 
The main Binance exchange is good for this purpose. You just need to transfer your Terra tokens to Binance or any exchange you are using. Next, sell them for fiat money, after which you can withdraw your funds into your bank account. 
However, note that you cannot access the withdrawal facility on Binance without completing a KYC process.
Where can you buy Terra Online?
Terra has a maximum supply of 1 billion tokens, and at the time of writing, it is part of the top 50 cryptocurrencies in terms of market capitalization. This makes it a popular token and one that you can easily buy through different centralized exchanges. 
But, if you are planning to buy Terra seamlessly, the best platform for you is a decentralized exchange like Pancakeswap. There are several reasons for this – as we explain below.
Pancakeswap – Buy Terra Through a Decentralized Exchange

Pancakeswap is, first of all, a decentralized exchange. This means using it to buy Terra takes away the need for an intermediary. Its advantages are numerous, and we will touch on a few here. One of its several advantages is the many staking opportunities on the platform. 
This allows you to stake the token you are not using and get high rewards on them. Next is the platform's low transaction costs, which makes it cheap to use. Coupled with this, you don't need to complete any KYC process before using it.  As long as you have a compatible wallet that's funded, you are good to go. The farms available on the exchange are also great perks of using Pancakeswap.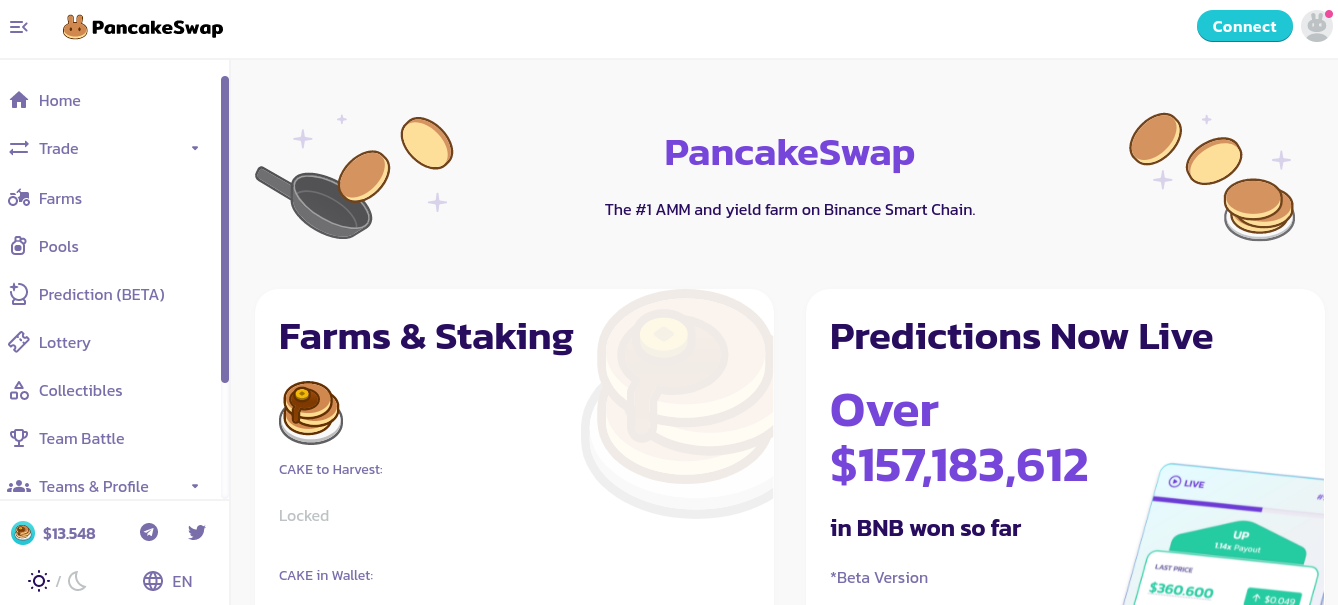 You can utilize these farming opportunities to earn rewards. These rewards can be incredible when you provide liquidity. But you should be aware of the risks that come with farming too.  You will also have access to many coins apart from Terra. So, if you plan to buy other Defi coins and diversify your crypto holdings, Pancakeswap is the platform to do it.  You will even find coins that are not listed on other exchanges. 
As we mentioned earlier, Pancakesawap can be accessed directly from within the Trust Wallet app. Therefore, if you have a coin in mind but don't have any crypto funds to hand – Trust Wallet allows you to make a purchase with your debit/credit card. Then, it's just a case of linking the Trust Wallet to Pancakeswap and buying your preferred Defi coin in a decentralized manner.
Pros:

Exchange digital currencies in a decentralized manner
No requirement to use a third party when buying and selling cryptocurrency
Supports a sizable number of digital tokens
Allows you to earn interest on your idle crypto funds
Sufficient levels of liquidity – even on smaller tokens
Prediction and lottery games
Cons:
Might appear daunting at first glance for newbies
Does not support fiat payments directly
Always consider the risks involved when buying cryptocurrencies. Digital assets are highly speculative and volatile. 
Ways to buy Terra
Buying Terra tokens is fairly easy, and there are several ways to go about it. With the multiple options available, you can easily find a way that suits your needs. 
Even though you may already have an account with your desired cryptocurrency exchange, there are basically two ways you can buy Terra.
Buy Terra with Crypto
You can buy Terra using crypto tokens. You need to have cryptocurrency first before you can use this method. You can start by transferring cryptocurrency from an external source over to your Trust Wallet, which is the best option when using Pancaksewap.
Once you do that, simply connect to Pancakeswap and exchange the cryptocurrency for Terra. 
Buy Terra with Credit/Debit Card
In this case, you can buy from a centralized or decentralized exchange. If you are buying from a centralized exchange, you can buy Terra directly. But if you want to buy from a decentralized exchange like Pancakeswap, you will need to buy crypto first.
Trust Wallet is the perfect option because you can buy crypto with your card directly through the app. Then you just connect to Pancakeswap and exchange the crypto for Terra.
Should I buy Terra?
This is a question people ask about most digital tokens. It is also a question preferably answered by you, after comprehensive and independent research. That is to say, deciding on whether to invest in Terra should be based on your personal understanding of the project itself.
You should look at both sides of Terra to see if it is a good investment. By doing this, you can reasonably hedge your risks.
With this in mind, below we discuss the many considerations that you need to make before you buy Terra.
Established Crypto Project
The project behind Terra token is a solid one which means the tokens are more than hype. The Terra network runs on several blockchains, including Solana and Ethereum. It plans to expand to more in the near future.

The network combines several Defi features to create an ecosystem of multiple stablecoins. It also leverages oracle systems, smart contracts, and its native Terra token to provide users with programmable money. All these affect the value of the token and keep it relevant in the market.
Growth Trajectory
Terra token was released in 2019 and traded between $1 and $1.5 at that time. While it experienced slow growth for most of 2020, it picked up towards the end of the year. It finally reached its all-time high in March 2021 at $22.36. This represents an increase of over 2,200% in value and huge returns for early adopters.
The value of Terra has now dropped to around $7 - as of mid-July 2021.
Transparent Ecosystem
Terra operates to solve some of the key issues currently found in the Defi space. The protocol was also developed to bridge the payment difficulties in the blockchain arena. 
How does this protocol do this? By leveraging a single layer of blockchain to eliminate the need for payment getaways, banks, and credit card networks. 
Low Value
At around $7, Terra still has a low value in the wider context of cryptocurrencies. In the digital asset world, a coin is best bought when its price is low. That way, early investors can enjoy the coin's increase if and when it eventually takes off.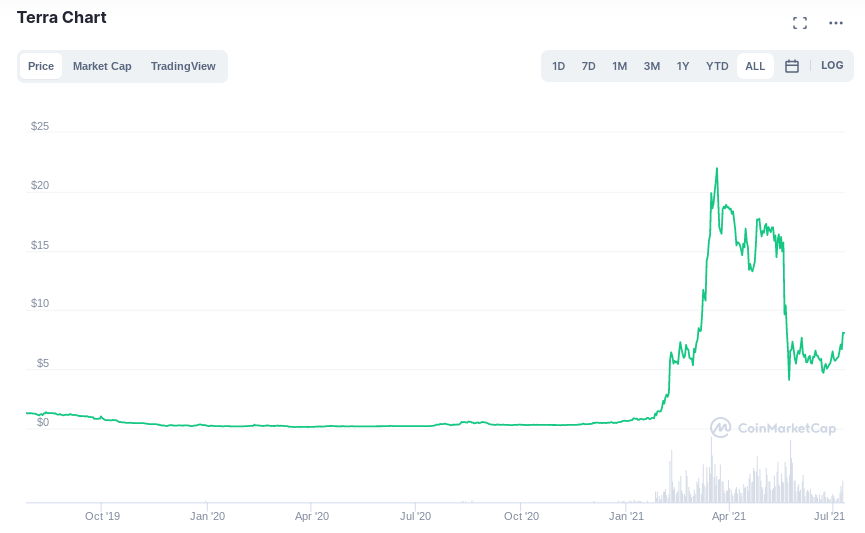 Essentially, this could be the right time to get Terra. However, this should yet again be determined by research on its market activities. That way, you can ensure your decision is informed. 
Terra Price Prediction
If you are planning to buy Terra, you will want to know how much it could be worth in the next few years. However, it is impossible to predict how much a cryptocurrency will be worth even in the next few days. 
Cryptocurrencies are speculative and highly volatile. Anything can influence the price, which makes it difficult to predict. Therefore, it is better to investigate the viability of the crypto project in the long run. Any price prediction you find online should not be your major reason to buy Terra.
Risks of Buying Terra
The risks of buying Terra tokens are not much different from that of any other cryptocurrency. It is a volatile asset with its price influenced by market speculation. So, the price could fall at any time and for any reason. 
If the price of Terra falls, you have to wait for it to shoot back up if you want your returns. But there is no assurance of the price rising either. However, you can mitigate the risks that come with buying Terra by:
Make small and periodic investments

: The price of Terra fluctuates. Therefore, it is better to buy in small amounts at frequent intervals depending on the markets.

Diversify

: There are thousands of cryptocurrencies in the market, so it's best to widen your Terra investment. Pancakeswap lists hundreds of other Defi coins aside from Terra, giving you a chance to diversify easily.

Do Your research

: Most people buy Terra because it's one of the hottest digital tokens being talked about. But, what should form the basis of your Terra investment should be your

own

research.
Best Terra Wallet
Once you have bought Terra tokens, you will need to start thinking about wallet storage. To help point you in the right direction, below we discuss the best Terra wallets for 2021.
Trust Wallet: Overall Best Terra Wallet
This wallet is available as a mobile app. You can use it to connect with several DApps, including Pancakeswap. So, if you want a user-friendly, convenient, and safe wallet, this is your best option.
Buying crypto with your card is another thing you can do with Trust Wallet. Overall, it is the best Terra wallet if you are just getting started.
MetaMask Wallet: Best Terra Wallet for Desktop
If you are using a desktop device and need a wallet that integrates well, go for MetaMask. You can safely store your Terra tokens and access all decentralized apps and exchanges. It is an add-on for Chrome, Firefox and Brave Browser. 
It also has a mobile version. You can switch between the two versions based on your preference.
Ledger Wallet: Best Terra Wallet for Security
It is important to keep your Terra tokens safe, and Ledger Nano helps you to do this. It is a hardware wallet for the cold storage of your tokens. This means it will only connect to the internet when you are using it to transfer funds out.
It is a physical wallet protecting your crypto from cyber attacks. In addition, the private keys cannot be stolen because they are on the wallet device itself. So, even when you connect it to a compromised computer, the virus cannot infect the wallet and steal your private keys. 
How to Buy Terra—Bottom Line
In conclusion, the process of how to buy Terra is best competed with a decentralized exchange like Pancakeswap. After all, Terra is a top-rated Defi coin - so it's a good idea to keep the main concept of decentralization by avoiding intermediaries and third parties. 
You can buy Terra through Pancakeswap in minutes via the Trust Wallet - and you can fund your purchase with crypto or a debit/credit card deposit!
Buy Terra Now via Pancakeswap

Always consider the risks involved when buying cryptocurrencies. Digital assets are highly speculative and volatile.
FAQs
How much is Terra?
The price of Terra fluctuates because it is a volatile asset. But as of July 2021, it is worth in the region of $7 per token.
Is Terra a good buy?
Terra is a legit crypto project with great potential. But it is volatile - meaning that its price is determined by market speculation. So, you should do your own research to see if Terra is right for you to buy.
What is the minimum Terra tokens you can buy?
You can buy as little as a fraction of a Terra token. Since it's a cryptocurrency with great supply, you can buy as much or as little as you desire.
What is the Terra all-time high?
Terra reached its all-time high of $22.36 on 21 March 2021.
How do you buy Terra tokens using a debit card?
You can buy Terra tokens with your debit card. But, first, you need to get a wallet. With Trust Wallet, you can buy crypto using your credit/debit card. Next, connect your wallet to Pancakeswap, which is the most suitable decentralized exchange for buying Terra. Swap the crypto you bought with your debit/credit card for Terra and you're good to go.
How many Terra tokens are there?
Terra has a total token supply of over 994 million tokens, with over 400 million currently in circulation. It currently has a market cap of over $3 billion - as of July 2021.
Unlock FREE Daily Forex Signals!
2-3

Forex Signals Daily

76%

Success Rate

25k+

Telegram Members
Join our FREE Telegram Group Now!