How to Buy Band Protocol: Invest in BAND Tokens Today!
The Band Protocol is a cross-chain API oracle originally built on the Ethereum blockchain. The protocol has since shifted ground to the Cosmos SDK – which it did in 2020. As an oracle, the project aims to provide accurate, real-life information to independent blockchains that cannot access the off-chain data they need. 
Now, it is the primary challenger to the dominance of Chainlink in the oracle sphere. When the founding team launched the protocol, its native token, BAND, was released in an initial coin offering (ICO) that saw the project raise $3 million.
Today, the protocol has broken past previous barriers it faced during its early stages and now competes as one of the most impressive projects in the Defi space. If you intend to understand how to buy BAND, this guide is for you.
How to Buy BAND: Quickfire Walkthrough to Buy BAND in Less Than 10 minutes
If this is not your first time trading cryptocurrency, and you just want a quick run-through of how to buy BAND, this brief walkthrough is in order.
With this concise guide, you will learn how to buy BAND in less than 10 minutes. Here you go:
Step 1: Download Trust Wallet:

You have to start by getting the Trust Wallet. You need a wallet to buy this token, and you will understand more about the importance of good storage as you read further. So, go to the app store your device uses and download the Trust Wallet. Then, install the app and set up your wallet by following the prompts. 

Step 2: Search for BAND:

On the homepage of your Trust Wallet, look for the BAND token by clicking on the bar located at the top right corner of the screen and searching for it.

Step 3: Add Cryptocurrency Asset to your Wallet:

Once you locate BAND, the next step is to fund your wallet. Your new digital wallet will be empty – so you need to fund it. Add assets to your wallet by sending some digital tokens from an external source or buying straight from Trust using your credit/debit card.

Step 4: Connect to Pancakeswap:

You cannot buy BAND directly on Trust, so after funding your wallet, connect to Pancakeswap. Here, you can swap the major coin in your wallet for BAND. Next, connect to Pancakeswap by clicking on 'DApps' on Trust. After that, select 'Pancakeswap' from the list and click on 'Connect.'

Step 5: Buy BAND:

Once you are connected to Pancakeswap, you can now buy BAND on the platform by swapping the major coin in your Trust Wallet for the token. Start by clicking on the 'Exchange' button. Next, click on 'From' and choose the coin you want to exchange for BAND. Then, go to 'To' and choose BAND.
Enter the number of BAND tokens you want and click on 'Swap.' That is it; all done in less than 10 minutes!
Always consider the risks involved when buying cryptocurrencies. Digital assets are highly speculative and volatile. 
How to Buy BAND – Full Step-by-Step Walkthrough
The quickfire walkthrough is a straightforward guide for anyone already familiar with buying cryptocurrency. However, beginners may not find it explanatory enough.
To help you out further, we have prepared a more comprehensive guide that breaks down every step. Learn how to buy BAND by following this detailed guide below – and a lack of experience will not be an issue for you.
Step 1: Download Trust Wallet
Start the process by downloading Trust Wallet. There are various wallets in the market, but this option has proven to be the best for simplicity and comprehensiveness – two core features that will be of immense help to you. Therefore, visit your relevant app store and get Trust Wallet.
After getting the app, you can set it up by following the prompts. Setting the app up will require you to create a PIN. Ensure that your PIN is strong in a way that others cannot guess. 
Once you have your PIN, Trust Wallet will provide you with a 12-word passphrase. This passphrase is unique to each user and will allow you to access your wallet if you lose access to it for any reason.
Step 2: Add Cryptocurrency Asset to Your Trust Wallet
Now that you have a wallet, you need to fund it to purchase BAND tokens. You can fund your wallet by adding cryptocurrency assets to it. You can do this in two ways; transfer cryptocurrency from an external wallet or by using a credit/debit card.
We will explain the two methods now.
Send Cryptocurrency from an External Wallet
You can add cryptocurrency to your Trust by sending some funds from another wallet. This method comes easy if you have another wallet that has digital tokens within it.
If you have never transferred assets from one wallet to another before, follow this guide, and you will be good to go.
Open your wallet and select 'Receive.'

Pick the cryptocurrency you want to send in.

Copy the wallet address displayed; it is unique to you.

Go to the other wallet and paste in the address you copied from Trust.

Enter the amount of cryptocurrency you want to send and confirm.
You will receive the asset in your Trust Wallet in a couple of minutes.
Buy Cryptocurrency Using Credit/Debit Card
Another way to make a deposit in your wallet is to buy digital tokens directly on Trust through your credit/debit card. This option is most suitable for new investors who do not have any other wallet.
Here is a simple step-by-step guide on buying cryptocurrency on Trust using your credit/debit card.
Open Trust Wallet and click on 'Buy.'

Go through the options listed and choose the coin you want to buy. If you will swap the digital currency for BAND later, pick an established coin such as BNB.

The next step will require you to undertake a Know Your Customer (KYC) process. The KYC process will enable Trust to verify your identity as required when trading with fiat money.

You will be required to provide a government-issued ID.

Enter the amount of cryptocurrency you want to buy.
Confirm the transaction and wait as your cryptocurrency is deposited into your wallet.
Step 3: How to Buy BAND through Pancakeswap
Being a small-cap Defi coin, you cannot buy BAND directly on Trust Wallet. Instead, you have to connect to an exchange platform to do this. There are two significant types of exchange platforms; centralized and decentralized.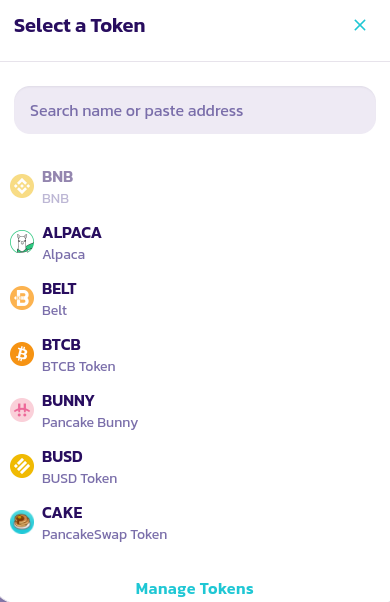 To buy BAND, it is better that you use a DEX like Pancakeswap. Here, you can swap the established coin in your wallet for the token without facing third-party hurdles.
Below we have provided a simple breakdown on how to buy BAND on Pancakeswap. You can replicate the result by following the process step-by-step.
Once you connect to Pancakeswap from your Trust Wallet, click on 'DEX'.

Follow by clicking on 'Swap.'

Click on 'You Pay' and select the coin you want to pay with. You should pick the same cryptocurrency that is in your Trust Wallet.

Input the amount you want to purchase and move onto the next section.

Click on 'You Get' and pick BAND from the list. The platform will display the swapping rates between the two assets.

Choose 'Swap' and finalize your transaction.
You will receive your BAND tokens in your wallet shortly after.
Step 4: How to Sell BAND
Learning how to sell BAND is very similar to the initial token investment process. Just like there are two ways to buy the token, the same also applies to selling BAND when you decide to. You can sell BAND by exchanging it for another cryptocurrency asset or fiat money.
Below we explain both methods clearly.
To sell BAND by swapping for another cryptocurrency, you must use an exchange platform such as Pancakeswap.

Connect to Pancakeswap and follow the same process you took to buy the token.

The major difference is that, when purchasing the token, you picked BAND under the 'You Get' section, But now, you have to select it under 'You Pay.'

Then, choose the asset you want to buy under the 'You Get' section.

Finally, click on 'Swap' and confirm.
The other method is to sell your BAND tokens directly for fiat money. This cannot be done on Pancakeswap, so you have to use a CEX like Binance. Ensure you have an account with Binance and then send your tokens there.
You will have to fill in some details, after which you can sell your token. After that, you can get your fiat money into your bank account.
Where Can You Buy BAND Online?
Cryptocurrency trades take place online through centralized and decentralized exchanges. You can buy BAND from any of these exchanges, but being a Defi coin, buying the token from a decentralized platform is preferable.
A top decentralized exchange is Pancakeswap, and it offers the option of swapping major coins for BAND.
Pancakeswap – Buy BAND Through a Decentralized Exchange
Pancakeswap is a decentralized exchange that makes use of the AMM model. The AMM model stands for Automated Market Maker. The significance of these platforms is that they allow you to have freedom by matching your orders against the system rather than other traders. This also eliminates the need for an intermediary when trading.
As the Defi market grows, Pancakeswap offers features that suit the needs of investors who are looking for alternatives to the exchanges that have dominated the market for years. The prominent feature of Pancakeswap is the liquidity pool. The platform has over 68 liquidity pools. These pools allow you to invest your spare tokens for regular interest payments.
The platform's operation allows you to add your tokens into pools already filled with other investors' funds. Then, Pancakeswap uses the assets in the liquidity pools to facilitate buy and sell orders – and then shares the profits among investors who have put their funds in it. Of course, the profit you earn depends on how much you invest, the respective token, and how long you leave the funds locked up.
As exciting and profitable as the liquidity pools are, there are other features that have made Pancakeswap a favorite among many investors. These features include the versatility of CAKE, the platform's native governance token. You can use CAKE to earn extra income in other spots on the platform, such as staking in SYRUP pools and FARMS.
Pros:

Exchange digital currencies in a decentralized manner
No requirement to use a third party when buying and selling cryptocurrency
Supports a sizable number of digital tokens
Allows you to earn interest on your idle digital assets
Sufficient levels of liquidity – even on smaller tokens
Prediction and lottery games
Cons:
Might appear daunting at first glance for newbies
Does not support fiat payments directly
Ways to Buy BAND
When learning how to buy BAND, there are two methods in which you can follow. You can either purchase BAND with cryptocurrency or with a credit/debit card.
You can use any of the two depending on which suits your plan. We will explain how to go about in the mini-sections outlined below.
Buy BAND with Cryptocurrency
The first way is to buy BAND with cryptocurrency. You can do this by transferring digital assets from an external wallet into your Trust. Then, you can connect your Trust Wallet to Pancakeswap and exchange the cryptocurrency for BAND.
Buy BAND with Credit/Debit Card
You can also decide to buy cryptocurrency directly on your Trust Wallet by using your credit/debit card. Using this method, you click on 'Buy' on Trust and select an established coin.
Then, follow the KYC process and pay with your credit/debit card. Once you have the established coin in your wallet, connect to Pancakeswap and exchange the cryptocurrency for BAND.
Should I Buy BAND?
Learning how to buy BAND also necessitates knowing whether the digital currency is right for your investment portfolio. Every day, several new tokens pop up on the market with promises of a great future. However, there is no sure-fire way to know BAND will become the next 'hot' crypto asset or die a natural death.
Therefore, if you want to buy BAND but are still somewhat skeptical, read below to learn some things you should look out for before investing in the token.
Growth Trajectory
The BAND token was initially offered for 30 cents during its ICO of September 2019. It went for 40 cents during its second ICO after the team relaunched the platform under the Cosmos SDK in 2020. Just one year later, the token trades for over $6 as at the time of writing in early August 2020.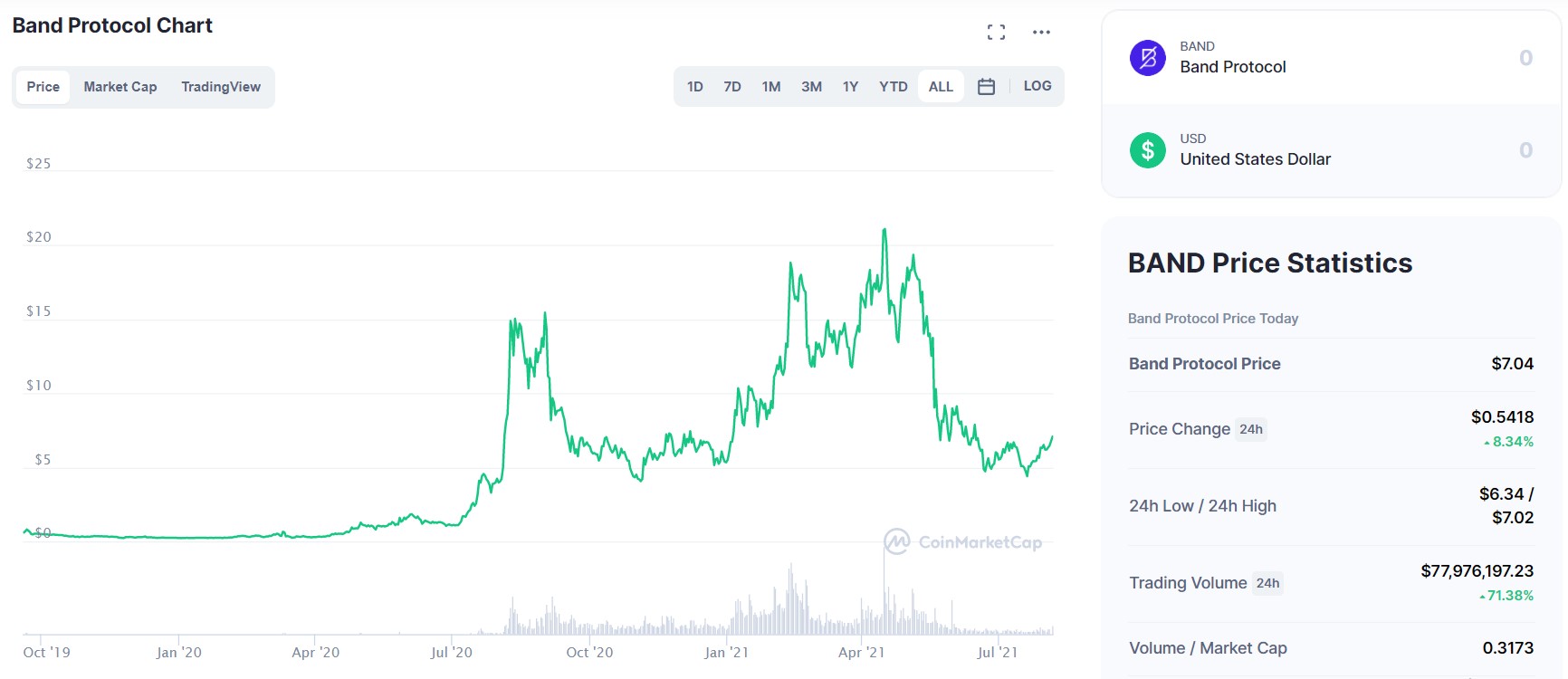 The growth trajectory of the token has been steady and may remain so or otherwise. If this upward trend does continue, BAND might be one of the next big tokens of its era and a profitable asset to you.
Corporate Partnership
Several big names support the Band protocol in the cryptocurrency market, and this gives a dose of confidence that the token has the technical backing it needs.
Built on the Ethereum blockchain and later moved to Cosmos SDK, the team behind the project has experience from some of the world's leading cryptocurrency and Defi enterprises.

Immediately after launching, the Band protocol liaised with leading cryptocurrency exchanges. This includes centralized exchanges such as Binance, Coinbase, and Huobi - as well as decentralized platforms like Kyber Network and Uniswap.

Also, the protocol joined technology giants such as Microsoft and Google on the OpenAPI Initiative to facilitate its goal to provide standard off-chain data to blockchains.
By strategically surrounding itself with the right partnerships, BAND could have an impressive future ahead of it.
Blockchain Agnostic
Being blockchain 'agnostic' means that the protocol is not limited to a particular network. Instead, Band integrates several blockchains - from Ethereum and Cosmos to other less-established ones. 
This versatility is capable of increasing the popularity of the protocol and its native token among developers looking to build decentralized applications (DApps) outside of the Ethereum blockchain.

If more developers gravitate towards the Band protocol to explore the various blockchains it offers, the popularity of its token could increase. In addition, Cosmos, the blockchain on which the protocol is built on, is also diverse. It is known as the "internet of blockchains," a status that may increase the value of BAND along the way.
BAND Price Prediction
The price of BAND has been rising steadily since the token overcame its all-time low, which it reached just a month after it was launched. Considering relevant variables, some commentators have predicted that the price of BAND will rise over 110% in one year. 
You should note that BAND price predictions like the above are based on speculation and cannot be relied upon when making sensible investment plans. Therefore, you should do your research and see if the risk involved with the token is not greater than your appetite.
Risk of Buying BAND
By learning how to buy BAND, you must know the risks that are associated with the token. BAND is susceptible to volatility due to market speculation, as is every other cryptocurrency asset out there. Any piece of news can influence the price of the token. Such news doesn't even have to be correct to have that effect.
As it is still an up-and-coming Defi coin, BAND is exposed to the risk of dying off within a couple of years, despite the team's best intentions.

The competition in this space is more challenging, and the market players are more crafty with manipulating the value of assets.

Therefore, you must keep in mind that you are at risk of losing your capital.
Also, cryptocurrency is not regulated like other financial assets such as stocks, bonds, forex, etc. Hence, the market can be manipulated by pumpers and dumpers. This often occurs alongside the release of false information to garner interest; ploys that people frequently adopt to increase the value of an asset they own.
Then, they sell when the price is high before other investors realize the trickery.
To protect yourself against these risks, do thorough research and know precisely the prospect of the asset you are about to invest in. You should also have a buffer by investing in various investments.
Best BAND Wallet
Knowing how to buy BAND also requires you to understand the best wallets to store your tokens. There are various wallets on which you can store BAND, but we have highlighted three of the best options in the market today.
Read on to see what these wallets offer.
Trust Wallet: Overall Best BAND Wallet
To store your BAND tokens, Trust Wallet is one of the best options available. It takes the top spot on our list because of its features which tower above others. The primary quality of this wallet is the friendly interface that makes it easy for investors, whether new or old, to use the app.
Trust wallet is also one of the best multi-currency options available as it supports several digital assets conveniently. With this, you can store your BAND and also diversify into other investments. Crucially, at the click of a button, Trust Wallet gives you direct access to the Pancakeswap DEX.
Trezor One: Best BAND Wallet in Security
When you are investing in the digital asset market, security will be one of your top concerns. However, you can get a hardware wallet to lessen this concern as they are known for trumping their software counterparts in keeping cryptocurrency safe from hackers.
The reason for this is that hardware wallets store cryptocurrency offline on devices like USB drives. As one of the leading hardware wallets in the market, Trezor One is highly encrypted and bars unauthorized access to your BAND.
Atomic Wallet: Best BAND in Convenience
One of the most compatible storage options for BAND is the Atomic Wallet. This wallet's strength is in its convenience, as it allows you to access your cryptocurrency in various ways. There are versions for the mobile app, desktop, and web.
With these, you can access your cryptocurrency holdings conveniently from wherever you are. The Atomic wallet also allows you to stake BAND tokens to earn regular interest.
How to Buy BAND – Bottom Line
Learning how to buy BAND has been concluded to involve four main steps. Start by downloading Trust Wallet, adding cryptocurrency assets to it, connecting to Pancakeswap, and then swapping the token for BAND.
Once you master this process, you can buy any Defi coin of your choice in just a few clicks! 
Buy Band Protocol Now via Pancakeswap

Always consider the risks involved when buying cryptocurrencies. Digital assets are highly speculative and volatile.
FAQs
How much is BAND?
As of early August 2021, the price of one BAND is just over $6.
Is BAND a good buy?
BAND can be a good buy if you do your research and conclude that it fits into your investment plan. Then, you can proceed to buy the digital asset. Essentially, the ultimate decision lies on you, so you should do your research first.
What is the minimum BAND tokens you can buy?
The Band protocol did not set any limit on the number of tokens you can buy. There are 100 million BAND tokens in total supply; therefore, there is more than enough to buy. So, whether you intend to buy little or many, there's enough to go around!
What is the BAND all-time high?
BAND's all-time high was recorded on 15 April, 2021, when the token's price reached $23.19. The coin hit an all-time low of $0.20 on 25 November, 2019, a month after launching.
How do you buy BAND tokens using a debit card?
You can buy BAND using a debit card by first purchasing an established cryptocurrency. Then, after buying a major cryptocurrency with your card, connect to Pancakeswap and exchange the coin for BAND tokens.
How many BAND tokens are there?
There are 100 million BAND tokens in total supply, and over 35% of them are in circulation. Furthermore, the coin's market cap is at over $223 million, as at the time of writing in August 2021.