How to Buy Venus: Invest in XVS Tokens Today!
Venus is a decentralized finance protocol that uses the Binance Smart Chain to bring borrowers and lenders together. The project allows users to hold or buy synthetic stablecoins or mint or borrow them. 
Due to the impressive functionalities that come with the protocol, Venus has garnered some traction in the market. This guide will show you how to buy Venus tokens with ease and in a secure manner. 
How to Buy Venus – Quickfire Walkthrough In Less Than 10 Minutes 
The Venus protocol offers some impressive services, and you may be looking towards buying into its fast-growing community. When purchasing a Defi coin like Venus, Pancakeswap is the best DEX for the process because it means you don't have to go through a third party. 
You can follow the guide below to learn how to buy Venus in less than 10 minutes. 
Step 1: Download Trust Wallet:

This is the best option if you plan to use Pancakeswap, the most suitable DEX for buying Venus. You can download the app on your iOS or Android device. 

Step 2: Search For Venus:

You will see a box at the top right corner of your Trust wallet. Search for Venus there. 

Step 3: Add Funds to Your Wallet:

You need to buy some cryptocurrency tokens before purchasing your Venus coins. You can buy directly with your credit or debit card or send some from an external source. 

Step 4: Connect to Pancakeswap:

Locate 'DApps' at the bottom of the Trust Wallet, choose Pancakeswap, and hit connect. 

Step 5: Buy Venus:

Locate the 'Exchange' tab, which produces a 'From' drop-down box, and choose the base cryptocurrency you need for the trade. From the 'To' tab, select Venus and enter the number of tokens you want to buy. Finally, click 'Swap' to confirm the transaction and await your coins. 
Within minutes, Trust Wallet will display the Venus tokens you have just purchased. They will remain there until you choose to sell them, which you can also do with your Trust Wallet. 
Always consider the risks involved when buying cryptocurrencies. Digital assets are highly speculative and volatile. 
How to Buy Venus Online – Full Step-By-Step Walkthrough 
Experienced cryptocurrency traders may find the quickfire guide explanatory enough. However, If you are a newbie, the process of how to buy Venus can appear challenging, simplified steps above may not provide sufficient information. 
Hence, in the sections below, we provide an in-depth explanation of how to buy Venus. 
Step 1: Get Trust Wallet
Pancakeswap is the perfect DEX for buying Venus, and you can access it on Trust Wallet. This wallet is supported by Binance, one of the largest trading platforms worldwide. It is also easy to navigate, and you don't need to be a seasoned cryptocurrency trader to store your digital assets. 
You can download it from the Apple or Google Play Store. Then, install the app and set it up. You will have to choose a strong password so that your assets will not be compromised. 
Trust Wallet also gives you a 12-word seed phrase that you can use to access your account if you lose your device or forget your password. You should safeguard it, as anyone who has it can access your assets. 
Step 2: Add Funds to Your Wallet
You will need to add funds to your Trust Wallet before you can buy Venus. There are two ways to go about it, and you may opt for the one readily available or suitable for you. 
Transfer Cryptocurrency From an External Wallet 
If you already own some cryptocurrency tokens in an external source, then sending some to your Trust Wallet will be a walk in the park. 
In your Trust Wallet, click on the 'Recieve' tab and select the cryptocurrency you will send from the external source. 

Copy the unique wallet address Trust allocates to you. 

Paste the address in the 'Send' bar in your other cryptocurrency wallet. 

Select the number of tokens you want to send and complete the trade. 
Your newly transferred tokens will reflect in your Trust Wallet shortly. 
Buy Cryptocurrency With Your Credit or Debit Card 
You can buy cryptocurrency directly from Trust Wallet with your credit or debit card. This option is more suitable if you are new to cryptocurrency trading and hold no digital assets. 
However, because you are using fiat currency to purchase the tokens, Trust Wallet needs you to complete a Know Your Customer process. Here, you will input a few essential details about yourself and upload a picture of a government-issued identity card. For example, it can be your passport or driver's license.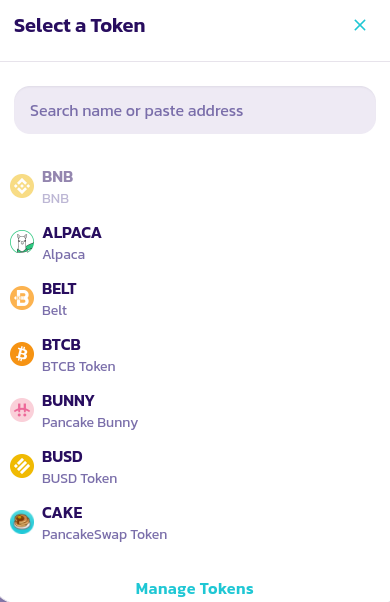 You can now buy cryptocurrency with your credit or debit card by following this short guide. 
Click on the 'Buy' tab at the top of your Trust Wallet. You will see an array of cryptocurrency tokens available; however, we suggest that you opt for an established coin like BNB, Ethereum, or Bitcoin. 

Next, choose the number of tokens you want to buy. 

Finally, input your card details and complete the transaction. 
The coins you just purchased will reflect in your Trust Wallet in a moment. 
Step 3: How to Buy Venus Through Pancakeswap 
Now that you have cryptocurrency tokens in your Trust Wallet, you can buy Venus using Pancakeswap. First, however, you need to connect your Trust Wallet to Pancakeswap to access this service. You can do so by applying 'step 4' of our quickfire guide on how to buy Venus. 
Once you have connected, you can now:
Choose the 'Swap' option from 'DEX,' which you will find on the Pancakeswap page. 

From the 'You Pay' tab, choose the coin and quantity for the exchange. It has to be the coin you transferred or the one you purchased with your credit or debit card. 

Locate the 'You Get' icon and choose Venus from the various tokens available.  

You will immediately see the number of Venus tokens the exchange equates to. 

Finally, select 'Swap' to complete the transaction. 
You have just successfully purchased Venus, and the tokens will reflect in your wallet immediately. 
Step 4: How to Sell Venus
If you are investing in cryptocurrency, you will be looking to make some profit. However, you cannot truly realize the added value of your tokens until you sell or exchange them. 
You can sell your Venus tokens by following one or both of these methods:
You can choose to swap your Venus tokens for another digital asset. Pancakeswap lets you achieve this seamlessly, and you can do it by following the guide above but in reverse.  

Another option is to sell the tokens for fiat currency. However, you will need to use a third-party trading platform. Binance is easily accessible and is suitable for this trade. 
Kindly note that if you decide to sell Venus for fiat money through Binance, you have to complete the required KYC process. 
Where Can You Buy Venus Online?
You won't have completely learned how to buy Venus without knowing where to purchase the coin. There are more than 4.2 million Venus tokens in circulation; hence, the coin is likely an easy buy. However, for several reasons, one of which is convenience, Pancakeswap is the most suitable way to buy Venus. 
Pancakeswap – Buy Venus Seamlessly With a Decentralized Exchange
The most significant reason Pancakeswap is perfect for purchasing Venus is that it's a DEX. This means you can complete your trades without an intermediary, which makes the entire process fast. In addition, Pancakeswap has a high transaction speed irrespective of the volume of traffic on the platform. 
You also have access to enough liquidity, even on the minor tokens. Hence, you can sell your holdings whenever you desire. With Pancakeswap, you can also easily swap your Venus tokens for a myriad of other digital currencies. You may not even find some of the tokens available on Pancakeswap on other DEX's, which is another distinguishing factor of this exchange. 
Pancakeswap offers its traders money-making opportunities through staking, meaning you can profit from your Venus tokens without selling. Additionally, Pancakeswap provides even more means to earn money through its numerous farming opportunities. These opportunities help you earn rewards, which you can subsequently convert to money. 
Lastly, you never have to worry about exuberant transaction fees when trading. Irrespective of the traffic on Pancakeswap, you will be charged low fees on each exchange. This is in addition to the fact that the DEX uses an automatic pairing mechanism through which it matches trades without stressing traders. Get started with this DEX by downloading Trust Wallet to your phone.
Pros:

Exchange digital currencies in a decentralized manner
No requirement to use a third party when buying and selling cryptocurrency
Supports a sizable number of digital tokens
Allows you to earn interest on your idle digital assets
Sufficient levels of liquidity – even on smaller tokens
Prediction and lottery games
Cons:
Might appear daunting at first glance for newbies
Does not support fiat payments directly
Always consider the risks involved when buying cryptocurrencies. Digital assets are highly speculative and volatile.
Ways to Buy Venus
A key part of how to buy Venus is to understand the ways to go about it precisely. There are many ways to buy Venus, and the method you opt for will rely on several factors.
However, Pancakeswap is the best DEX to use, and it makes the process much easier. Below we list the two main options to consider when investing in Venus tokens.  
Buy Venus With Your Credit or Debit Card 
If you do not have digital assets in another wallet, you may have to resort to using your credit or debit card to buy the cryptocurrency that you will subsequently use to exchange for Venus.
Trust Wallet makes it possible for you to acquire cryptocurrency tokens directly with your credit/debit card. 

You must complete a KYC process, as you cannot buy cryptocurrency with fiat money anonymously.

You can then provide your card details and buy the tokens you will use for the exchange.

We suggest opting for a popular token like ETH, Bitcoin, or BNB. 
Next, connect Trust Wallet to Pancakeswap, and you can now buy Venus by swapping it with the cryptocurrency you purchased earlier. 
Buy Venus With Digital Assets
You can alternatively buy Venus by swapping it with other cryptocurrency tokens. However, you can only use this method if you already have some coins in an external wallet.
Then, you can transfer the tokens to your Trust Wallet and use them to buy Venus seamlessly. Connect Trust Wallet to Pancakeswap, and exchange the transferred cryptocurrency for Venus tokens. 
Should I Buy Venus?
The process of making a financial decision to buy Venus is not an easy one and should certainly not be taken with levity if you intend to avoid losses. You will have to gather sufficient information that may or may not induce you to purchase the tokens. We also suggest that you make the decision independently while avoiding market speculations. 
Here are a few things you may consider while deciding on whether or not to buy Venus. 
Borrow On Demand 
Venus allows holders with over-collateralized assets to borrow any of the cryptocurrencies it supports. You can borrow stablecoins and other cryptocurrencies by pledging digital assets. The treasury will lock these collateral assets on the Venus protocol. 
You can borrow digital assets based on the ratio allocated to your collateral. For instance, if Ethereum gets a collateral value of 60%, you can borrow as much as that relative to what the collateralized assets are worth. The Venus Protocol typically sets collateral ratios between 40% and 75%.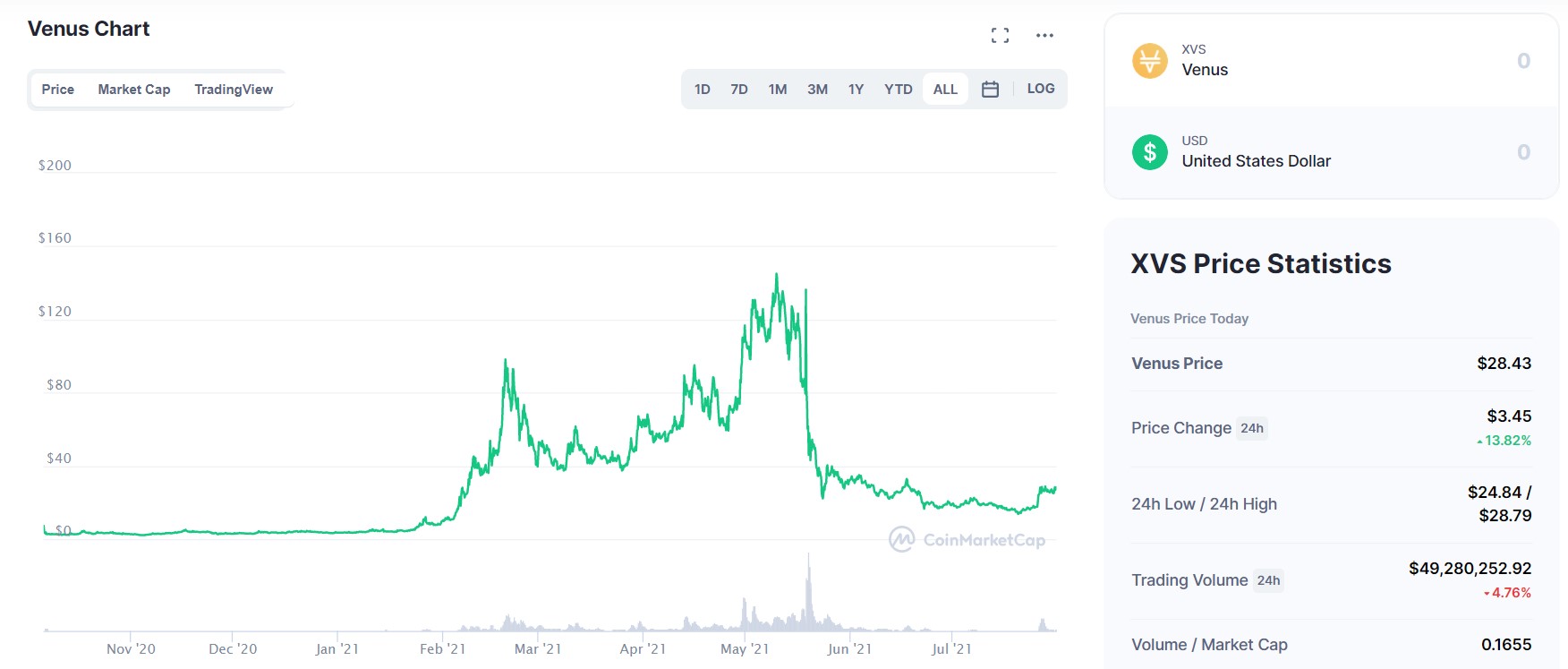 Now, you accrue compound interest per block on the digital assets borrowed, and are under no obligation to pay it monthly. Terminating the debt entails paying the original assets coupled with the accrued interest back to the Venus protocol. 
Earn Interest On Savings 
Venus holders can earn interest on their savings, which is based on the market demand for their assets. The higher the demand, the more interest they accrue. You can earn interest per 'block' and use this as collateral to borrow stablecoins and other cryptocurrencies. 
Here's how it works. Holders can supply assets that borrowers will access. The interest rate earned will depend on the yield curve utilization of the assets. The protocol uses smart contracts to ensure that suppliers can withdraw their assets anytime. Suppliers can also use the accrued interest to mint stablecoins. 
Access to Instant Liquidity 
The Venus Protocol makes it possible for you to access instant liquidity for the stablecoins, digital currencies, and assets you hold on the platform. This comes in handy when you are looking to borrow capital. 

With this in place, you will be able to sell your tokens anytime and anywhere. The ease that comes with the coin's liquidity improves its traction in the market. This, in addition to the active and growing community of lenders and borrowers, brings the coin within the purview of impressive Defi protocols.
Venus Price Prediction 
When people learn how to buy Venus, they also look for potential price analyses. If you choose to buy Venus, then you will be very interested in its possible growth. However, it is impossible to predict the exact value it will attain in days or even years to come. 
Digital currencies are pretty volatile. Hence, online price predictions are seldom correct. Therefore, you should decide to buy Venus based on your research and never solely on market speculation or price prediction. 
Risks of Buying Venus
If you are leaning towards buying Venus, you need to know the potential risks involved. Typically, it is the same with other digital assets—the price can go in the opposite direction you anticipate. 
If the price does move against you, this means that you will have to wait for it to readjust before you can get your original investment back. Yet, it's impossible to ascertain that there'll be an increase.
The following steps can help mitigate potential risks when buying Venus tokens:
Make Periodic Investments:

Venus has a volatile value, and as such, it will be best to invest at intervals. You can buy in small quantities and at periods when the price seems low. 
Buy Different Tokens:

Diversifying your Venus investment is a fantastic way to reduce your chances of losing entirely. That way, if one coin appears to be crashing, you have others to rely on. Pancakeswap offers you a range of tokens to choose from. 
Research:

Of course, this is the first step to take before buying Venus. Adequate research will save you from potential losses. Additionally, it is best to make a buying decision independently and not because of price predictions or Fear Of Mising Out (FOMO). 
Best Venus Wallet 
After purchasing Venus, you have to consider where you can securely store the tokens.
Below are the most suitable Venus wallets for 2021:
Trust Wallet - Overall Best Wallet for Venus
The best option for Venus is Trust Wallet, and for several reasons too. First, Trust Wallet is secure; so you are not at the risk of losing your Venus tokens because of hacks or system compromise. In addition to the impenetrable password you have chosen, Trust Wallet also gives you a 12-word seed phrase.
You can use this to access your wallet if you lose your mobile device or forget your password. Trust Wallet is also user-friendly and easy to access. It also helps that you don't need to make a purchase to use Trust Wallet to store your Venus tokens - as its completely free on the Google Play and App Store!
Ledger - Best Venus Wallet for Security 
A very secure wallet is vital if you don't want to lose your Venus coins to hackers.
Ledger is the best in terms of security because it is a hardware wallet. This means that it stores your tokens offline. 

Ledger was launched in 2014, and since then, has never been hacked. Additionally, there are several security systems in place to prevent potential breaches. 

It also has fantastic backup options that safeguard your Venus tokens if you lose your hardware wallet or forget the PIN.
Ensure you write down the seed phrase Ledger gives you, and keep it somewhere secure. 
Coinomi - Best Venus Wallet for Convenience
If you value convenience, the Coinomi Wallet may be the most suitable one for you. It is a hardware wallet that stores your Venus tokens offline, which makes it impossible to hack. It also has security and backup systems in place, so you never have to worry about losing your coins. 
You can connect your Coinomi Wallet to an Android or iOS device. You can also connect it to your desktop device, making it the overall best Venus wallet in terms of convenience. This means you can use it just about anywhere. 
How to Buy Venus - Bottom Line
The process of buying Venus is best completed with a decentralized exchange like Pancakeswap. This is because it eliminates the need for a third party, which is the main objective of decentralized finance. 
You can buy Venus tokens after connecting Pancakeswap to Trust Wallet. It also leaves you with the option of using a credit or debit card or transferring digital currencies from an external wallet. Essentially, in this guide, we have shown you how to buy Venus in the simplest manner. 
Buy Venus Now via Pancakeswap

Always consider the risks involved when buying cryptocurrencies. Digital assets are highly speculative and volatile.
FAQs
How much is Venus?
Venus is worth just over $27 as at the time of writing in late July.
Is Venus a good buy?
Venus might be a good buy if you consider the coin's use cases. However, you should independently decide on whether or not Venus is worth purchasing only after doing adequate personal research.
What is the minimum Venus tokens you can buy?
You can buy less than one Venus token. Typically, you can buy cryptocurrency in small or large quantities.
What is the Venus all-time high?
Venus attained its all-time high of $147 on 10 May, 2021.
How do you buy Venus using a debit card?
You will need a wallet before you can buy Venus with your debit card. The best option for this is Trust Wallet, and it lets you buy cryptocurrency assets directly with Visa or MasterCard.
How many Venus tokens are there?
There are 30 million tokens in existence. However, there are just above 10 million Venus coins in circulation. The coin also has a market cap of over $250 million, as at the time of writing in late July.