First reported by financial news site Blockworks, world-leading investment bank Goldman Sachs is warming up to the legitimacy and benefits of DeFi (decentralized finance).
Blockworks, who host the Digital Asset Summit conference for institutional investors interested in cryptocurrency, obtained the latest market report Goldman Sachs makes available for its clients.
Goldman Sachs DeFi Report
While their DeFi report isn't public, these excerpts and a graph have been made available:
'DeFi is easier to access for underbanked populations and provides faster settlements for users. The DeFi market has expanded dramatically since the middle of 2020 – roughly 10x on the most common measure.'
'The total value locked has increased 900% from under $10 billion during the first half of 2020 to nearly $100 billion today. The growth likely is a product of yield and speculative activity likely also plays a role – but user adoption may also relate to longer-running trends including digitalization, globalization, and declining trust in centralized institutions.'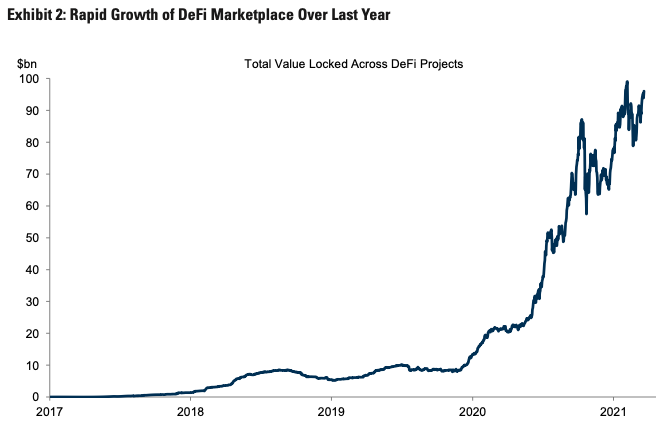 Source – DeFi Pulse, Goldman Sachs Global Investment Research
'While some products are unique to the DeFi ecosystem, there are many overlaps to traditional finance. The main difference is that the marketplace is almost entirely decentralized: there are no banks, brokers, or insurers, only open source software connected to a blockchain.'
'The narrative around DeFi has shifted from whether or not these decentralized products can work to how they can continue to grow and scale. Additional structural differences and advantages to DeFi include unique products, faster pace of innovation, higher transparency, more efficiency and lower cost cross-border payments.
Overall, the innovations in DeFi show potential for adoption and disruption in existing financial systems. They also demonstrate a compelling use case for blockchains and cryptocurrency technology that should help support market valuations for these assets over time.'
Growing Institutional Interest in DeFi
The report did offer the caveat that DeFi is still a 'work in progress' with some 'flaws like hacks, bugs, and outright scams' to avoid. It also states there will be challenges for the DeFi community to alleviate concerns of policymakers when it comes to consumer protection.
However the overall tone of the report is very positive and a marked change from Goldman Sachs' criticism of cryptocurrency in previous years. It comes in the wake of many billionaire investors such as Jack Dorsey and Mark Cuban also investing in DeFi projects.
The report was written by Zach Pandl, co-head of foreign exchange strategy for Goldman Sachs Research, and Isabella Rosenberg, a foreign exchange analyst at Goldman Sachs.
The price of Bitcoin and Ethereum, on which many DeFi projects run, both made new all-time highs in October 2021, at $67,000 and $4,375 respectively on Binance exchange.
Update – while the markets have corrected in early 2022, some analysts speculate the next crypto bull run could begin in late 2022, 2023 or around the next Bitcoin halving in 2024.